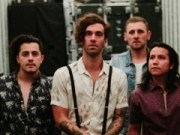 LETRA
I left my mother feelin' sick in a bedroom
My daddy told me, "Son, you best grow up"
I told my friends, they could find me on the internet
'Cause somehow this place just ain't enough
Collect call from a brother in the lock up
He said he paid his dues but could I pay them too
My best friend is stealin' money from my pocket
I guess it's time to go, and they said
"Who, who are you?" "Who are you really anymore?"
I said, "Who, who am I, I don't know what I'm heading for"
I said, "All I know, all I know, I'm leaving again"
I said, "Goodbye, so long", to my, my neighborhood
And I know, I know, I'll see you again
'Cause I'll always, always come back
To my neighborhood, to my neighborhood
I threw my troubles and my bags in the back seat
Pulled up the drive, for one last look
She was standin' in the doorway lonely, after leanin' in close
She said, "Who, who are you?" "Who are you really anymore?"
I said, "Who, who am I, I don't know what I'm fighting for"
All I know, all I know, I'm leaving again
I said, "Goodbye, so long", to my, my neighborhood
And I know, I know I'll see you again
'Cause I'll always, always come back
To my neighborhood, to my neighborhood, to my neighborhood
Came back last night just to see you
It's been too long but nothing's change
I'm trying to be the one that you can't be
Baby these dreams they all to blame
I can hear it in your voice that you do know
It's not a choice for me to stay
So long, goodbye to the neighborhood
To my neighborhood
All I know, all I know, I'm leaving again
I said, "Goodbye, so long", to my, my neighborhood
And I know, I know I'll see you again
'Cause I'll always, always come back
To my neighborhood, my neighborhood, my neighborhood, my neighborhood
Apoyar a American Authors
American Authors no está entre los 500 artistas más apoyados y visitados de esta semana.

¿Apoyar a American Authors?

Ranking SemanalMedallero