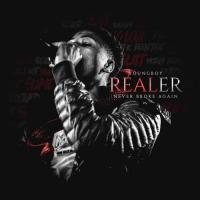 Big Talk
Letra y Canción
Añadir a Favoritas
Guardar en Playlist
BIG TALK es una canción de YoungBoy Never Broke Again que se estrenó el , este tema está incluido dentro del disco Realer.
LETRA
'Big Talk'
[Verse 1]
I come from posted on the block with them hot boys
Seven of us ridin' on a bike, totin' them fire rods
I man how the city make the powder
Never go to sleep, he pressin' all the cards
Bitch, what it is? We could talk about it
Skinny ni***, pockets thick, my bitch got a wide boy
Hoppin' off the jet and I got twenty racks in every pocket
Cross get set on fire, niggas die if you try to stop me
Jail cells, I was only 12, gettin' put in them
Hood hoes tryna come up off you, I grew up with them
Snake niggas, straight up hatin' niggas, bitch, I run with them
F*** niggas with that sneak dissin', I ain't hearin' them
Hold on, now let me turn up on a ho
Your favorite rapper rattin' on the low
Hundred shots in that cutter, we got that Chevy sittin' low
And my youngins, they reckless, blow all the hinges off your door
Shoot that forty twenty times, they gon' start callin' one time
And I remember one time, I think it was in '09
And I couldn't seem to stop cryin', mama put me on medics
And I never took real and real killer, unapologetic
Bitch, and we forever steppin', hit a ni*** with that fire
Boomer really slang that iron, behind it I caught bodies raw
Let me talk my shit, matter fact, check out my Diddy Bop
Glock steady runnin' wild, fifty in that forty Glock, c'mon
[Chorus]
Old niggas on that old shit, it's a young ni*** time
A bigger picture, bigger difference, it's a young ni*** rhyme
Head over water, he say all he do is step with that iron
Catch that ni*** slippin', knock his heart from out his chest with that iron
Big boss, that lil' ni*** with that big talk
Cutter got a big spark, lil' Bill let that stick off
Plus half of these niggas, I could tell you what your bitch 'bout
Richer than your daddy, with my moms in a big house
[Verse 2]
Young ni*** pull up with them shooters and I fooled you
I won't ever let these niggas get me, that's a no-no
High definition, VVS's, on my son, ho
What is shit you could do that hurt me when I'm done, ho?
Tryna bust a ni*** head, and I'm like "Yes, sir, yes, sir"
Got some shit up in my trunk'll rip a nigga's vest up
Shawty tryna f*** a ni***, she want me to bless her
Cousin killed by Fat Phil, she don't know we stretched him
Gave some molly to that bitch, now she wanna do somethin'
…
[Chorus]
Old niggas on that old shit, it's a young ni*** time
A bigger picture, bigger difference, it's a young ni*** rhyme
Head over water, he say all he do is step with that iron
Catch that ni*** slippin', knock his heart from out his chest with that iron
Big boss, that lil' ni*** with that big talk
Cutter got a big spark, lil' Bill let that stick off
Plus half of these niggas, I could tell you what your bitch 'bout
Richer than your daddy, with my moms in a big house