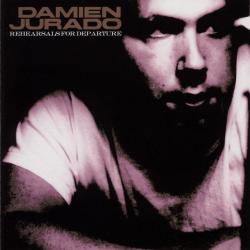 Rehearsals for Departure
Damien Jurado
LETRA
I'll come down tomorrow morning
And meet you at our new location
In front of City Bookstore
Across the street from the railway station
She tells me how her night was spent
Nursing coffee and cigarettes
You waited til your husband left
To pack your things and off you went
He wouldn't notice that you'd left
Til morning when the drink wore off
He stayed out all night with his friends
Never to return again
In front of City Bookstore
Across the street from the railway station
You show up with your suitcase
Ten dollars and a sad expression
She tells me that it's all over now
She's done her time and now she's out
From the prison that she calls a house
Where she stayed put while he went out
She left him a note taped to the door
Saying, "Babe I won't be back no more
I can't find reasons for me to stay
Married to you and your cheating ways."
Walked her out to the train
Couldn't hide my pain
Or these tears that flow
From my eyes like rain
That September morning, 1959

Más abajo encontrarás canciones relacionadas con Rehearsals for Departure.
Puntuar 'Rehearsals for Departure'
¿Qué te parece esta canción?
-
0 votos
* Gracias a ChamLee por haber añadido esta letra el 12/2/2019.
Comentar Letra
Comenta o pregunta lo que desees sobre Damien Jurado o 'Rehearsals for Departure'
Comentarios (1)
+ Damien Jurado
Canciones del Disco