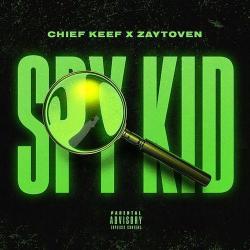 LETRA
Zaytoven
Ayy, Zay
We gon' call this one Spy Kid
Yeah

Get out my lab, DeeDee, know you love me 'cause these VVs
I changed the forecast, I be icy-cy
All these young niggas grew up, wanna be me
You can act like it, bitch, I know you see me (Bang, bang, bang)
Told her pull up the creamy, she say she don't eat meat
But I made her eat me, yeah, yeah (Skrrt, skrrt)
Once you call up, got the heated seats (Skrrt, skrrt)
Mobbin' like it's A&E, we run it from A to Z, yeah
Everything they say is make believe
She thirsty for me like Christmas Eve, tear the bitch down like Christmas tree (Bang, mmhmm)
These niggas ain't sweet, they bittersweet
Swear the life I'm livin' a dream
Had her drink semen and I'm on lean (Lean)
(Ayy, Sosa, what you see?)
I spy a hatin' ass nigga over there (I spy)
I spy a bitch that don't got no hair (I spy)
I spy a fake ass bubble Moncler (I spy)
I spy a kid that wanna live dreams (I spy)
I spy a fuckin' dinosaur, OMG (I spy)
I spy you, in the city, yeah (I spy)
I spy these thots, I'm pretty, yeah (I spy)
I spy bitch ass niggas over there (Shhh)

I spy niggas actin' like they jewels so real (Shhh)
I spy my bitch movin' on for real (Shhh)
I spy ffr, ffr, another couple mil'
I spy another opp, leave his ass filled (Shhh)
Made him sign a non-disclosure, business can't spill (Shhh)
I spy Jill ass fallin' off a hill (Shhh)
I spy niggas ain't rollin' like the wheels (Shhh)
I spy

I see bitches lookin' at me (Lookin' at me)
I speed on my way to get that green (Skrrt)
I see the galaxy inside her eyes (Inside her eyes)
I see your ho later that night
I see why she like me
She like me because I be icy (Bling)
I be breaking the law, ain't Ice-T (Ice-T)
I spy your bitch cooking for me
Tell that ho to make that shit spicy
He sendin' messages to his wifey
Talkin' 'bout he don't like me, tell a nigga to fight me
"Sosa you high? I might be
Rockin' all that fake shit, you is a fake ass hypebeast"
(Ayy, Sosa, what you see?)
I spy a hatin' ass nigga over there (I spy)
I spy a bitch that don't got no hair (I spy)
I spy a fake ass bubble Moncler (I spy)
I spy a kid that wanna live dreams (I spy)
I spy a fuckin' dinosaur, OMG (I spy)
I spy you, in the city, yeah (I spy)
I spy these thots, I'm pretty, yeah (I spy)
I spy bitch ass niggas over there
fuente: musica.com

Compartir la letra 'Spy Kid'