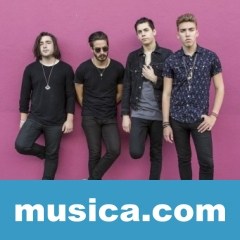 'Outskirts of Paradise' se estrenó el . Esta canción está incluida dentro del disco Disappear Here.
LETRA 'OUTSKIRTS OF PARADISE'
Roll down the window now
I've lost my way within this town
The tranquil glow of the song I know
It guides me
I'm stuck in strip mall times
A mood swings under a porcelain sky
Would you be my friend
Would you be my friend for now?
I'm on the outskirts of paradise
Chasing desire through the night
Picturing ways to take flight
When the time comes
When the time comes
Separate yourself
Integrate yourself
When the time comes
Separate yourself
Integrate yourself
Awestruck or asinine
An ephemeral sense of space and time
A familiar face
A pulse that escalates
I'm stuck in strip mall times
I don't mean to be impolite
Would you be my friend
Would you be my friend for now?
For just a little bit, yeah
I'm on the outskirts of paradise
Chasing desire through the night
Picturing ways to take flight
When the time comes
Outskirts of paradise
Chasing desire through the night
Picturing ways to take flights
When the time comes
When the time comes
Separate yourself
Integrate yourself
When the time comes
Separate yourself
Integrate yourself
Oh, oh, oh, oh
Separate yourself
Integrate yourself
Oh, oh, oh, oh
Separate yourself
Integrate yourself
When the time comes
Separate yourself
Integrate yourself
When the time comes
Separate yourself
Integrate yourself
When the time comes
Separate yourself
Integrate yourself
When the time comes
When the time comes