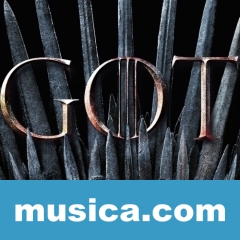 LETRA
I'm sorry for the way
they paint bruises and wounds on your skin
only to call them
battle scars; how they

sing their love
of your femininity, only to take you
out of a den of lions and place you into
a valley of murderers. Your strength

is unlimited and I do not need to be reminded
by some douche bro on my Facebook wall
about how you will be fine; how
you will survive yet another season.
I know this like the lifelines on my palms: how
you will rally the North, not
be made puppet by a monster. You
have been through too much
to break under such weight, but that does not excuse
the choice that was made.
You understand war too well for one who's never
touched a blade. There hasn't been a time
since you embarked from home
where your life has
not been in peril. Forced to sit
idle while the number of wolves in your pack have
dwindled, all while knowing the back of a hand,
clothes torn from your body, lips pressed to yours that you
never asked for -

Little Dove, you have such strength in your grace, but
that is not enough to temper the swell of my anger.
That the gods of your fate
would offer you up on a platter for the sake
of easy writing; for the titillating thrill of good ratings. They

make a meal of your carnage
even though your flesh is already so poorly patched
together. It is clear in this twist how
they've never once cared about your character.

So I'm sorry for yet another season, despite
how things could have been different
this time; how you
might have been happy.

I suppose it was all too much to ask for.
The chance for a direwolf to be set free.
The chance for a dove to escape the hunters.
The chance for a girl to be safe for once.

I mean, really,
who would want that on their TV screens anyway?
fuente: musica.com


X