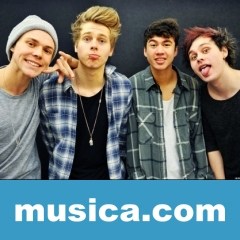 LETRA 'EASIER'
Is it easier to stay? Is it easier to go?
I don't wanna know, oh
But I know that I'm never, ever gonna change
And you know you don't want it any other way
Why do we always gotta run away?
And we wind up in the same place
It's like we're looking for the same thing
Same thing, yeah
Yeah, do we really gotta do this now?
Right here, with all your friends around
In the morning we can work it out
Work it out
I love you so much that I hate you
Right now, it's so hard to blame you
'Cause you're so damn beautiful
You're so damn beautiful
Is it easier to stay? Is it easier to go?
I don't wanna know, oh
But I know that I'm never, ever gonna change
And you know that you're always gonna stay the same
Is it easier to stay? Is it easier to go?
I don't wanna know, oh
But I know that I'm never, ever gonna change
And you know you don't want it any other way
Every time that you say you're gonna leave
That's when you get the very best of me
You know we need it like the air we breathe
Air we breathe, yeah
I love you so much that I hate you (oh-oh-oh-oh-oh-oh)
Right now, it's so hard to blame you (oh)
'Cause you're so damn beautiful (oh)
You're so damn beautiful (oh-oh, oh-oh)
Is it easier to stay? Is it easier to go?
I don't wanna know, oh
But I know that I'm never, ever gonna change
And you know that you're always gonna stay the same
Is it easier to stay? Is it easier to go?
I don't wanna know, oh (I don't wanna know)
But I know that I'm never, ever gonna change
And you know you don't want it any other way
The hardest part of all
(Da-da-da-dum-da-da)
Is that we're only built to fall
(Is it any easier?)
Is it easier to stay? Is it easier to go?
I don't wanna know, oh (oh-oh)
But I know that I'm never, ever gonna change
And you know that you're always gonna stay the same (is it easier?)
Is it easier to stay? Is it easier to go? (Yeah)
I don't wanna know, oh (oh)
But I know that I'm never, ever gonna change
And you know you don't want it any other way
I love you so much that I hate you (oh-oh-oh-oh-oh-oh-oh)
Right now, it's so hard to blame you
'Cause you're so damn beautiful
Sobre Easier
"Easier" es un tema influenciado instrumentalmente por el bajo y el hard rock que marca el estilo 5 Seconds of Summers.
Este fue el primer lanzamiento en solitario desde su álbum Youngblood en junio de 2018.
Este lanzamiento sucedió después de que co-escribieran y proporcionaran voces en The Chainsmokers "Who Do You Love" en febrero de 2019.
El conocido vocalista Luke Hemmings se encargó de la voz principal en esta canción.
Líricamente, el tema explica el debate de la banda sobre si permanecer o no en una relación tóxica.
La banda filtró por primera vez su lanzamiento publicando un fragmento de 15 segundos de la canción en su Twitter.
Mostrando la naturaleza oscura de la pista, el fragmento fue acompañado por imágenes de miembros de la banda encadenados, ahogados y en una sala de fotos rodeados de llamas.

En una entrevista con Official Charts, el líder de OneRepublic, Ryan Tedder, quien co-escribió el tema, dijo que estaba "entusiasmado" por el lanzamiento de la canción.
La canción tiene una sensación de hard rock, pero con un arreglo relativamente escaso.
5 Seconds of Summer dijo a Rolling Stone que se hizo de esta manera porque ha habido "una creciente atención al ritmo industrial dentro de la banda".
Dijeron que la canción es un derivado del ritmo del tambor que se oye en la canción "Closer" de Nine Inch Nail.
La banda agregó que también se inspiraron en grupos oscuros y sintetizados como Depeche Mode y Tears for Fears.

Durante la semana que terminó el 8 de junio de 2019, "Easier" debutó en el puesto 48 del Hot 100.
Esta magnífica canción fue escrita conjuntamente por Watt, Ali Tamposi, Louis Bell, Charlie Puth, Michael Clifford, Calum Hood, Luke Hemmings, Ashton Irwin y Ryan Tedder.
Este tema cuenta con las voz adicional de fondo del cantante Charlie Puth.
El tema utiliza acertadamente una interpolación de la canción Closer de Nine Inch Nails.
Apoyar a 5 Seconds of Summer
5 Seconds of Summer no está entre los 500 artistas más apoyados y visitados de esta semana, su mejor puesto ha sido el 69º en julio de 2014.

¿Apoyar a 5 Seconds of Summer?

Ranking SemanalMedallero