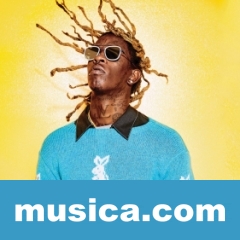 LETRA
Woo! (Jeffery!)
*sips*
Bouncin' like a Tootsie Roll, aye, uh (yeahhh...)
(Aye) Jeff! (I just wanna smash on the first date...)
A-a-a-aye...
Uhh! Whatchu want?
Wheezy Beatz
(Yeah!)
I just wanna smash on the first date (huh)
I just wanna smash on the first date (yeah)
I just wanna smash on the first date (first, first)
I just wanna smash, I'ma smash, uhh (smash, smash)
Smash like a smash gang, woo! (smash, smash!)
Smash in my Balmains, woo! (Balmains!)
Smash while I'm switchin' lanes, aye! (skrt, skrt!)
Smashin' your main ting, ah! (smashin' your main ting)
When you smash you gotta maintain, ha! (when you smash)
Gotta spazz on your main thing, woo! (spazz on your main thing)
Fuck her hard like my main dame, aye! (main dame, aye)
I'ma smash, I'ma remain, aye!
The best that she ever saw, the best that she ever did
The best that she ever fucked, the best that she ever kissed
The best that she ever sucked, the best thing she ever did (hah!)
I'ma be the best thing she ever did (hah!)
Oh!
(Woo!)
Oh! *sips*
Ow! (I just wanna smash on the first date)
Prince and Michael Jackson on my jacket, Gucci khaki, uh!
She bad, I make her badder, dead fresh without a casket, hah!
Hermes on my belt, no no no wrangling, no no ratchet, hey!
Smith & Wesson Glocky, I'ma keep a fucking ratchet, aye!
I just wanna smash
Best thing is that I'm happy, yes
Buy her everything, make sure she happy, yes (uh)
Rollie, ro-ro-rollie with the Patek, yes (Rollie, yes)
Got her eatin' out of Nobu, then designer sex (woo!)
I'm gon' fuck you like no other, nothing like the rest (woo!)
I'ma battle with you through everything with no flesh (yeah!)
If I promised I'ma marry you, you ain't gotta rush (I'ma ring you!)
Ow!
I'ma make sure that you ball with your feet up
(He gon' make sure that I ball with my feet up)
Turn you up, I never lost with your feet up
(Turn me up, I never lost with my feet up)
Buy you diamonds, pearls, and lobsters with your feet up
(Buy me diamonds, pearls, and lobsters with my feet up)
She pregnant with my daughter with her feet up
(She pregnant with your daughter with my feet up)
Oh yeah... (Hahaha) with your feet up (slime) (Ohhh...)
Hah, aye... (Ohhh) with your feet up (yeah! slime, slime, slime)
Oh, aye... (Ohhh) with your feet up, nigga (slime, slime, slime)
Aye... (Ohhh, with my feet up) (slime, slime, slime) feet up
Ohhh, with my feet up (slime, slime, slime)
Ohhh, I'm with my feet up (yeah! tell'em! slime, slime)
Help me out, man, with my feet up (slime, slime, slime)
With my feet up (slime, slime, slime)
Feet up! (feet up!)
Yeah...
Skrrrrtttt...
With my feet up, nigga
Help me with my feet up, yeah
I be riding, riding, riding with my feet up
That's my nigga, he gon' make sure that they keep up
He gon' make sure that they always gotta catch 'em
I don't fuck with niggas, we be out there catching, haha
I be out and I be rolling, rolling with 'em, yeah
I be gone, gone, boy I'm sipping gin and, uhh
With my feet up
What happened? Hahaha

fuente: musica.com


X