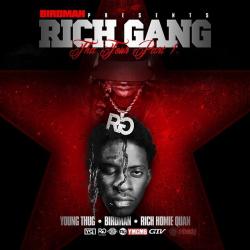 LETRA
Flava Letra
Yeah, yeah, yeah
Talk to 'em, nigga
Yeah, yeah, yeah
Thugger Thugger my brother
Thugger Thugger my brother
Hahaha, The Remedy
Hah, Quan!
We got London on da Track
Rich Gang, nigga!
Cop a Rollie, yes a Rolex
And I pull up on that lil nigga, Bowflex a nigga, know that, aye (what?)
Where your heart at? I'm gon pour that out like Moet
And she know that she the bomb, nigga, Lotus, aye (real nigga)
And these bitches know they fuckin' and they suckin'
When they get inside the bed with me and Mayo, aye (woo woo woo!)
And she fuckin' if I say so, plus she suckin' if I say so
And she love it if I say so
And we fuck 'em, we don't pay 'em (what?)
How the fuck I'm gon' buy if I don't pay 'em? (yeah, nigga, yeah)
I'ma come a week later (hah!)
I'ma spread that pussy out like a acre (acre...)
She on the cover of Fader (Fader...)
And she say it's my time like Flava (Flava...)
Plus I ain't never went fishin, but I bait 'em
And I'm livin' like Flava (real nigga)
Yeah, yeah
Got the chopper with the Mac in the back with the stacks, nigga
Pull up in a new car (skrrrt)
Long nose bout the flow, nigga, pull up out the door nigga
Fuck and get a murder show (a murder show)
Been a hunter and a gunna and a stunna, nigga
Gettin' money representin' uptown (uptown)
Big Bs with a few Cs
For the money it'll be your own people on you: ACTION!
Big mansion with the OV
Backyard with the young nigga, lowkey (lowkey)
Five stars, nigga, ball like a real G (real G)
New cars, nigga, serve it like it's 10 a key (10 a key)
Got a mill in em bitches
Fuckin' niggas bitches, iced out, fully loaded (fully loaded, drippin')
100 mill still flippin'
Check a nigga digits, make a young nigga gun blow (bah!)
Hot nigga, don't stop (bah!)
Big money nigga gon' pop (bah!)
One stop, get yo life took (bah!)
Big money, bitches gon' look (ya heard?)
Flashy classy (classy)
For the money we dashing (dashing)
Fuck em, pass 'em (pass 'em)
How we did it outlast 'em
BLATT!
Cop a Rollie, yes a Rolex
And I pull up on that lil nigga, Bowflex a nigga, know that, aye (what?)
Where your heart at? I'm gon pour that out like Moet
And she know that she the bomb, nigga, Lotus, aye (real nigga)
And these bitches know they fuckin' and they suckin'
When they get inside the bed with me and Mayo, aye (woo woo woo!)
And she fuckin' if I say so, plus she suckin' if I say so
And she love it if I say so
And we fuck 'em, we don't pay 'em (what?)
How the fuck I'm gon' buy if I don't pay 'em? (yeah, nigga, yeah)
I'ma come a week later (hah!)
I'ma spread that pussy out like a acre (acre...)
She on the cover of Fader (Fader...)
And she say it's my time like Flava (Flava...)
Plus I ain't never went fishin, but I bait 'em
And I'm livin' like Flava (real nigga)
Rich Homie!
Tell the bitch I'm comin' over 3 AM
So she better have her muthafuckin' clothes off (what?)
One of me, three of them
And you know that I'm a pimp
Just booted up, I ain't bout to doze off (nah)
Lil nigga, you a shrimp walking' with a limp (yeah, yeah)
I ain't have to say a word the bitch took her clothes off (yeah, yeah)
Love shit to make me sleepy, love Xan, love percocet (hey, hey)
All these drugs got me tho'd off
I love my bitch, I can't go without her
Wanna give her my seed, no sunflower
I got strong genes, my little boy look just like me
I ain't tryna be with you, woman, I one night ya
(Drop the top off my whip, then I)
Pulled up with that nigga bitch in the car
Now her baby daddy wanna fight me (hah, aye)
That pump, man, make him jump, man(fo, fo, fo!)
You would think his ass was sponsored by Nike (fo!)
I'm every little kid's idol, got more verses than the Bible (yeah)
The lifestyle I live here priceless (what?)
Pull up on yo ass like a diaper (what?)
Grippin on my nuts like Michael (hey)
I see shit before it happen like a psychic (I do)
Get yo bitch, don't want that broke hoe around me (get back)
And me and Thug still on the run so fuck yo' bounty (for real)
I love my girl so much, that money, I let her count it
(Thugger tell 'em)
Cop a Rollie, yes a Rolex
And I pull up on that lil nigga, Bowflex a nigga, know that, aye (what?)
Where your heart at? I'm gon pour that out like Moet
And she know that she the bomb, nigga, Lotus, aye (real nigga)
And these bitches know they fuckin' and they suckin'
When they get inside the bed with me and Mayo, aye (woo woo woo!)
And she fuckin' if I say so, plus she suckin' if I say so
And she love it if I say so
And we fuck 'em, we don't pay 'em (what?)
How the fuck I'm gon' buy if I don't pay 'em? (yeah, nigga, yeah)
I'ma come a week later (hah!)
I'ma spread that pussy out like a acre (acre...)
She on the cover of Fader (Fader...)
And she say it's my time like Flava (Flava...)
Plus I ain't never went fishin, but I bait 'em
And I'm livin' like Flava (real nigga)
Call yo' bitch and tell her I need some mechanical
Plus she make me stand up like a ruler, hey
Even though I don't got all my strolls
Imma pull up on lil mama with the doors off, hey
Imma treat myself and buy myself a Rollie
Then I walk into a party full of cougars, oh
This just might be an interesting white-t
Yeah nigga, this a crew cut
Crew cut, mama say your crew cut
On that GT, pop for me, oooh-ee
And she come and let me ride like Uber
Then I teach lil mama how to ride it smoother
Baby girl, gimme clues, no blues, uh
Parallel, I fuck her right by the Buddha
Baby, all on my Insta, no -tution
Hate leavin' me when she go to school, uh
Kendrick, look Imma dive in
Got her ridin' round with me, make a play
Make her feel like I got ties in it
And I'm sorry I was seein' your lady
Fuck bitch, don't never try to play me
Bruh, I'm sorry I was feedin' yo baby
First time seen a real nigga make it
Sittin' at the top, I'm bored, no neighbor
(Thugger, tell 'em)
Cop a Rollie, yes a Rolex
And I pull up on that lil nigga, Bowflex a nigga, know that, aye (what?)
Where your heart at? I'm gon pour that out like Moet
And she know that she the bomb, nigga, Lotus, aye (real nigga)
And these bitches know they fuckin' and they suckin'
When they get inside the bed with me and Mayo, aye (woo woo woo!)
And she fuckin' if I say so, plus she suckin' if I say so
And she love it if I say so
And we fuck 'em, we don't pay 'em (what?)
How the fuck I'm gon' buy if I don't pay 'em? (yeah, nigga, yeah)
I'ma come a week later (hah!)
I'ma spread that pussy out like a acre (acre...)
She on the cover of Fader (Fader...)
And she say it's my time like Flava (Flava...)
Plus I ain't never went fishin, but I bait 'em
And I'm livin' like Flava (real nigga)
Hahaha, The Remedy
We got London on da Track

Comparte si te ha gustado