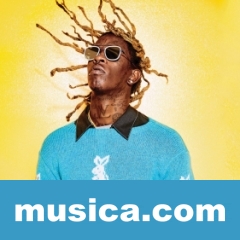 Flowers
LETRA
Flowers Letra
I keep the Kushy on me
I keep them Xannies on me (Them Xans!)
Sure keep a bad bitch with me (She bad!)
You're not embarrassing me (Noo!)
This not your average with meee!
Gucci and [?] with me
This not why they started a beef
Then someone gon' end up deceased
This shit is a problem
These bitches a problem
These niggas they problems
We problems
These niggas can't stop us
These niggas wan' pop us
These niggas can't do nun' but stalk us
I'm not from New York and I'm not 50 Cent but these bitches know I got the power
These bitches know I'm Eddie Bauer, I'll kill em
Then send your lil' muhfuckin' mama some flowers!
Send your lil' mama some roses
Get me the racks you a slow bitch
YSL, you know the slogan
And if you trickin', yeah you owe me (You owe me, bitch!)
I know the code bitch (I gotta go!)
And I know you rouge-ish (You lyin'! [?])
You waste time, don't pop on your rollies
You living life bogus
These bitches stay bogus, but I'ma stay focused and focus
I fuck her, I fuck on her face, then I bust like a coconut
These niggas be borrowin' us
How come these niggas not knowin' us? (They don't!)
They know that the can't [?] with us, these lil' bitches all over us
Come on, girl
Yeah I love you
'Til I fuck you
Got the hustle
Big ol' muzzle
And I'm buffing
Headed baby
More like the 80s baby
Bitch I'm the terminator
Go round round round
They come round, they hatin'
You smoke that base and you smoking that basic
And that's why
I keep the Kushy on me
I keep them Xannies on me
Sure keep a bad bitch with me (She bad!)
You're not embarrassing me (Noo!)
This not your average with meee!
Gucci and [?] with me
This not why they started a beef
Then someone gon' end up deceased
I get head for the low!
She get that bread on the low
Pull up in something they don't know
Give em them racks and they know
Nigga the loafs
Yeah I get them loafs
Took off with no overdose
As far as shit goes
Take your lil' [?] some plastics
Suck on my Johnson, no Magic
Diamonds they dancing
Don't try it, don't Deep in the women like Fuck her so hard she need bandages
She's in the pocket like sandwiches
I like 'em thick just like Manwiches
Yah, yah, yah, yah, yah!
---------
I don't, ball [?] 12'll never stalk us
[?] so I'm Andrew Baller
[?] crew that they roll with
[?] Rollie [?] told it
Hey!!

Comparte si te ha gustado