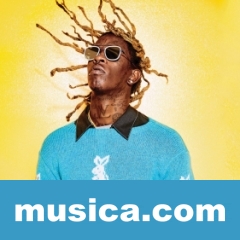 Get That Money
LETRA
Get That Money Letra
That lil bitch she wanna fuck, I'm like yeah
Yeah!
Fuck a hater motherfucker get that money
Fuck a hater motherfucker go get money
I'm getting money
Yeah, Yeah!
Run it up, run it up
Get money, get money
I'm running out of ones
Throwing dubs, fifties, hundreds
Fuck a bitch, I don't like
Pass her around to my homies
If I want it I can buy it
Cause I'm keeping it on me
I dedicate this one to Franklin
MJ, I dedicate this one to Blanket
As long as you come I will be waiting
Woof on that pussy like a puppy
Up, Up, Up!
Babe, we can go up, up, up!
Know dog gon suck, suck her up!
And you, oh baby I'm about to
Looking out for my baby, aye
I been riding with my baby, aye
Shoot at guys with my baby
Aye, I'mma die for my baby
I'm gon multiply with my baby
I might divide with my baby
I'm so real
I just might cruise out with my baby!
Fuck a hater motherfucker get that money
Fuck a hater motherfucker go get money
I'm getting money
Yeah, Yeah!
Run it up, run it up
Get money, get money
I'm running out of ones
Throwing dubs, fifties, hundreds
Fuck a bitch, I don't like
Pass her around to my homies
If I want it I can buy it
Cause I'm keeping it on me
Go, Go, Go!
There goes that money, chase it, chase it
Go, Go, Go!
Get it, don't let the feds erase it
Where is the tissue I shitted? They can't take it
Sike, I'm drinking Act little bitch I'm constipated
Tempurpedic, my bitch booty
Bottom of a boat, her coochie
Rich Gang apparel, not Coogi
Hundred twenty-seven bands on a Dually
I'd rather throw bucks at strippers before they shred it
12 thought I was smokin', I swear, my gas unleaded
Yeah!
Pull my teeth no tooth fairy
But, I got implants and yeah they ready
Uh!
How come when you sleep I'm scary?
I take bae-cations, not vacations but my mama said
Fuck a hater motherfucker get that money
Fuck a hater motherfucker go get money
I'm getting money
Yeah, Yeah!
Run it up, run it up
Get money, get money
I'm running out of ones
Throwing dubs, fifties, hundreds
Fuck a bitch, I don't like
Pass her around to my homies
If I want it I can buy it
Cause I'm keeping it on me

Comparte si te ha gustado