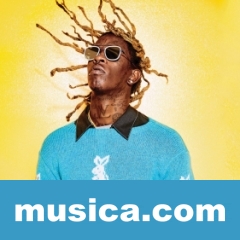 Paper Terminator
LETRA
Paper Terminator Letra
Guwop and Meechie (say it)
Free them, real legends (yeah)
They took care of the streets
I know they gon' go to heaven (uhh)
We got London on da track
You wouldn't think they locked up
The way that they steady blessin' (oh)
I'ma give them some (oh)
And I'm gon' ice out both they necklaces (oh)
The terminator, I see paper, I need Vizine (yeah)
I know some Haitians, they say 'Sak Pase,' they hyenas (sak pase!)
I know some niggas cut like chefs and they cook Justin Bieber (oh)
I feel like Farrakhan, I want some justice for them people (hey)
Catch up like mustard, DJ Mustard (woah)
If a nigga play with Thugger, repercussion (woah, blatt!)
Got racks up to 87, he'd have leased the Lexus (skrrrr)
2020, Kanye just might win the elections (I hope he win & shit!)
I'ma win a necklace (Thugger)
I'ma fuck your bestie (hee)
We illegal weapons (woah)
All my niggas treacherous (swea, swea)
Hey! Goin' out like Elvis Presley (yeah)
I'm already legend (oh)
I'm already rested
Ice all on it like a Rollie (oh)
I'll hit that Ginobili (oh)
Rollie Pollie Ollie (oh)
Remind her of the old me (yeah)
Remind her that she gotta fuck my slime
My bro and woadie (mwah, sheesh)
You don't live if you owe me (swea)
Wallet chain gold like some goldies (ice, bling)
Bitch, you old wiggin' (cash)
I've been told to step it up (swea)
She on that old shit (uh, cash)
AP flooded, one of one (swea)
And I'on't even show the shit (that cash!)
Yeah, if you fucked her, then she caught it
Yeah, you owe the bitch (huh? brrrrt)
Player, we on OG shit (pimp, chuch!)
Hun-hunnid thousand come on notices (racks, hunna!)
I-I'm a beast, I know I'm Willie B (ahh!)
Hunnid thousand spent and I didn't notice it
Hey!
The terminator, I see paper, I need Vizine (yeah)
Went got that paper, stacked it up, now I don't gotta scheme (nah)
We in the kitchen cookin' up, this ain't no pot of beans (nah, woo)
Got off my ass, went got that bag, now I supply the team (swea)
Now I'm like mustard, ketchup, mustard (hey)
I'm like 'baby, make me nut, or repercussion' (hey)
Put duck sauce and gravy on my racks, they like 'okay' (hey)
Found out I fucked his hoe, now he calling me gay (what?)
I'm a shot-caller (caller, pots!)
I'm smokin' gas and that's that must (ah, ah)
I'ma put that thumb right in her butt (woah, get it)
My lil girl want me to blow some racks on her (so what you did?)
I had to do it, I had to do it (woo, woo, woo)
She ain't fuckin' you like she should (woo, woo, woo)
She pulled up so fresh, and now they like you in (woo, woo, woo)
Fa-fa-fa-fa-fa, I wanna do it (brrrrrrrrtttt)
I put them trees on your head, I wish you wood (wish you would)
I was lookin' at them Raris yesterday (skrt skrt)
Thinkin' like two years ago, I got my cars from Chevrolet (swea)
AK-K-K-K-K-K-K (grah! brrr)
SK knock you to the moon, that's my best day (yah, graw! brrr)
Nigga invasive (sheesh)
We don't crab, we gon' go and let the rest play (yeah)
I-I-I'm a bossa! B-O-S-S-A
Who you be? I can't see
Sportsmanship, you can't dee
Choppa E, J-E (what?)
Bitch, F-F (sheesh)
1500, Cash Money (yeah, yeah)
All hunnas, watch your step (yeah, yeah)
I will never stop 'til death (nah)
We gon' dab in Molly deal (yeah)
Hire me a lobster chef (yeah)
No-no-no, no stoppin' him! (no)

Comparte si te ha gustado