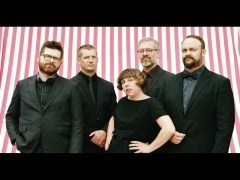 Shankill Butchers
LETRA
Shankill Butchers Letra
[Intro]
Two, three, four
[Verse 1]
The Shankill butchers ride tonight
You better shut your windows tight
They're sharpening their cleavers and their knives
And taking all their whiskey by the pint
[Chorus]
'Cause everybody knows
If you don't mind your mother's words
A wicked wind will blow
Your ribbons from your curls
Everybody moan, everybody shake
The Shankill butchers wanna catch you awake
[Verse 2]
They used to be just like me and you
They used to be sweet little boys
But something went horribly askew
Now killing is their only source of joy
[Chorus]
'Cause everybody knows...
If you don't mind your mother's words
A wicked wind will blow
Your ribbons from your curls
Everybody moan, everybody shake
The Shankill butchers wanna catch you awake
[Instrumental Interlude]
[Verse 3]
The Shankill butchers on the rise
They're waiting until the dead of night
They're picking at their fingers with their knives
And wiping off their cleavers on their thighs
[Chorus]
Cause everybody knows...
If you don't mind your mother's words
A wicked wind will blow
Your ribbons from your curls
Everybody moan, everybody shake
The Shankill butchers wanna catch you
The Shankill butchers wanna cut you
The Shankill butchers wanna catch you, awake
Awake
Awake
Awake.
Sobre Shankill Butchers
Una de las páginas negras del conflicto irlandés. Los Shankill Butchers, liderados por Lenny Murphy, fueron un grupo paramilitar encargado de secuestras, torturar, golpear y matara a católicos en Belfast. Lo sorpredente de sus acciones era lo indiscriminado: pese a lo que pudiera parecer, pocas víctimas de los carniceros de Shankill tenían relación alguna con el IRA.

Colin Meloy y sus Decemberists los pintan aquí con la estampa de esos hombres del saco, de ese coco con el que muchas abuelas asustaban a nuestras madres.