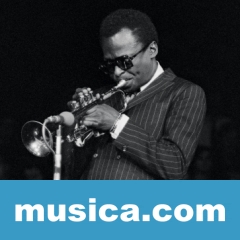 In a Silent Way [Album Art + Liner Notes]
LETRA
In a Silent Way [Album Art + Liner Notes] Letra
Click on images to read the annotations

Original back cover liner notes
Miles the dresser, Miles the boxer, Miles the bon vivant, Miles the pioneer. I use the word 'pioneer' because over the past decade Miles has been ever searching for new sonorities, new ways of performing his music. In essence, NEW DIRECTIONS. I would chance to say that Miles is the most written about artist in the field of jazz, and I hate the word 'jazz.' I prefer using the phrase 'field of music.' Attendance in clubs has always been overwhelming. People come from all over to hear the one and only Miles Davis. A creative force is always at work within him. His recent albums are pointed to new directions for all who are interested in music. His has incorporated the best of jazz, so-called contemporary rock sounds and rhythms, a flair for the long thematic line reminiscent of the 16th-century composer, and the technique of the 20th-century composer using polyrhythms (many rhythms at one) and polytonalities (different chords played together). He has come up with something new in music. The form is free, and from this freedom a masterful outgrowth of composition has emerged. NEW DIRECTIONS by Miles is what it implies. People will follow him ten years hence.
In my opinion, the so-called contemporary rock groups are picking up on the early Miles Davis, trying to imitate but never quite making it. The present day rock groups, I am sure, dig Miles, but, here again, it will probably be another five to ten years before they really understand his creativity, his compositions, his mastery of musicianship. He has inspired countless musicians to create, to be creative and to rise from obscurity to take a place in the musical foreground. 'That's right,' says Miles Davis. So with that I leave you to NEW DIRECTIONS by Miles Davis.
— Frank Glenn
Reissue back cover liner notes
Recorded and released in 1969, In A Silent Way was the first full Miles Davis LP to herald the great trumpeter-bandleader's new musical direction, soon the be known as 'fusion.' There had been imitations of Davis' fresh intentions on two previous albums, Miles in the Sky and Filles De Kilimanjaro, both recorded the previous year. But in its almost candlelit fashion, Silent Way established that the twains of jazz improv and rockish rhythms and instrumentation had indeed met. Leading a stellar eight-piece ensemble, Davis (1926-1991) for the first time featured three electric keyboards - and in Herbie Hancock, Chick Corea, and Joe Zawinul (who wrote this set's mesmerizing title piece) he had a trio of the most influential pianist-composers to emerge from the 1960s. And not only did the album also help introduce U.S. fans to the brilliant young British guitarist John McLaughlin, it's twinkling timbres and use of space deeply influenced the recording techniques of the burgeoning European label ECM, as well. Now impeccably remastered, which only enhances the shimmering beauty of the landmark album, In A Silent Way is also part of the invaluable three-CD Columbia/Legacy set, The Complete In A Silent Way Sessions.