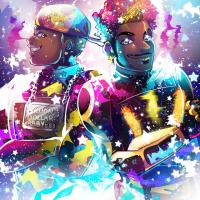 LETRA
'Panini Dababy Remix'
D-D-Daytrip took it to ten (Hey)
[Lil Nas X]
Ayy, Panini, don't you be a meanie
Thought you wanted me to go up
Why you tryna keep me teeny? I
It's a dream, he wished it on a genie
I got fans finally, ain't you wantin' them to see me? I
I thought you want this for my life, for my life
Said you wanted to see me thrive, you lied
[Lil Nas X & DaBaby]
Just say to me what you want from me
Just say to me what you want from me
Baby, let's go, uh
[DaBaby]
Okay, this song right here remind me of my ex
Say I be declinin' all her calls and I don't respond to none of her texts
I be like, "Girl, hush your mouth, you know I ain't got time for nothin' but sex"
She know I injured my right hand so when I get behind I use my left
She watched that "Walker Texas Ranger," say I remind her of Nas X
I'm talkin' "Old Town Road," all my hoes down low
They like girls and I like girls, three at a time, sometimes four
And if my backend not all hundreds and ain't on time, then I don't go
I be like...
[Lil Nas X & DaBaby]
Say to me what you want from me
Just say to me what you want from me
What you want?
[Lil Nas X]
Ayy, Panini, don't you be a meanie
Thought you wanted me to go up
Why you tryna keep me teeny now?
Now they need me, number one on streaming
Oh yeah, you used to love me
So what happened, what's the meaning? I
I thought you want this for my life, for my life
Said you wanted to see me thrive, you lied
Now when it's all done, I get the upper hand
I need a big Benz, not another fan
But I still want you as a fan
I'ma need to sit down, don't mean to make demands
But I need you to...
Say to me what you want from me
Just say to me what you want from me
[Nessly]
D-D-Daytrip took it to ten (Hey)
Sobre Panini Dababy Remix
El verso de DaBaby se centra en una relación fallida con su ex-novia y hace referencia a su canción de éxito, "Walker Texas Ranger".
Este tema marca la primera colaboración entre los artistas Lil Nas X y DaBaby.
Apoyar a Lil Nas X
Lil Nas X no está entre los 500 artistas más apoyados y visitados de esta semana.

¿Apoyar a Lil Nas X?

Ranking SemanalMedallero
Lil Nas X
Añadir Letra
Panini Dababy Remix
Comentar
Guardar en Playlist