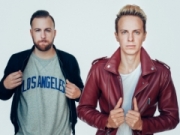 LETRA
'Feather'
Yeah
Lost when you 29 on my cigarette break
You don't wanna talk, you got nothing to say
We got nothing going on
Will you miss me when I'm gone?
You probably think I'm wasted, I got fire in my cup
Then ride on my mess but don't hang up
Got demons going on
You say you'll miss me when I'm gone
Standing on a roof with your
Telling me that you don't feel it yet
I'm so fuc*** numb
Yeah, I'm so fuc*** numb
So I'm falling from the roof, I scream your name
You don't gotta hear my shit again
I'm so fuc*** done
Yeah, I'm so fuc*** done
Here's goodbye, bye forever
If I don't fly like a feather
Here's goodbye, bye forever
If I don't fly like a feather
Here's goodbye, bye forever
If I don't fly like a feather
Here's goodbye, bye forever
If I don't fly like a, if I don't fly like a feather, feather, oh-oh
And I hope you doing okay and this doesn't hit your heart
Maybe you don't even notice I'll be up there in the stars
Though I guess that's where we at
Hey, girl, what's up with that?
Remember when you said we'll be together 'til the end?
And in [?] you'll be the one to tell my friends
Hey, where did we go wrong?
Oh, do you miss me now I'm gone?
So I'm falling from the roof, it's too late, babe
You don't gotta hear my shit again
I'm so fuc*** done
Yeah, I'm so fuc*** done
Here's goodbye, bye forever
If I don't fly like a feather
Here's goodbye, bye forever
If I don't fly like a feather
Here's goodbye, bye forever
If I don't fly like a feather
Here's goodbye, bye forever
If I don't fly like a, if I don't fly like a feather, feather, oh-oh
Here's goodbye, bye forever
If I don't fly like a feather
Here's goodbye, bye forever
If I don't fly like a feather
Here's goodbye, bye forever
If I don't fly like a feather
Here's goodbye, bye forever
If I don't fly like a, if I don't fly like a feather, feather, oh-oh
Apoyar a Lost Kings
Lost Kings no está entre los 500 artistas más apoyados y visitados de esta semana.

¿Apoyar a Lost Kings?

Ranking SemanalMedallero