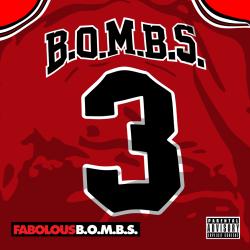 B.O.M.B.S.
Fabolous
La canción 'B.O.M.B.S.' se estrenó el .
LETRA
Back on my bullshit (Bullshit)
Back to back on my bullshit (Bullshit)
Matter fact that was bullshit
I'm goin' back to back to back on my bullshit (Bullshit)
Do it one time they gon' think it's luck (Think it's luck)
Gotta hit 'em with the repeat
Do it two times they gon' still doubt (Still doubt)
Ay, now I got a three peat
Gotta flood the streets 'til they knee deep
Gotta stay woke can't be sleep
All this fly shit don't be cheap
All these bad bitches that we keep 'round
Pockets gotta be deep now
Never lose again, live in me deep down
Gotta keep winnin' it's a clean sweep now
Tell her back it up, you hit three beeps now
Big truck lil' bitch
Call me Greek freak, big bucks lil' bitch
Paid in Full, lil' Ace, lil' Mitch
You a RICO, lil' case, you're a snitch
Not from Chicago but too shy to speak
Ask where was Waldo, I'm too hide and seek
Move like cargo I do fly every week
Princess in Lagos, Dubai with sheikhs
Anywhere I go, new vibes the freak
Told her I'm Drago, you Apollo Creed
Far as hot cars go, you guys to me
I Murcielago and you dry your feet
Nigga
I'm that bull in the hood
New Lamb truck, got the bull in the hood
Black and red lookin' like the Bulls at the hood
23's on it, got the Bulls ain't good
This game six, this can't miss
Shootin' my shot, wrist hang, swoosh
Ice my shit like I just sprain this
Milli plain jane and that bitch stainless
Look, money talk, shawty speakin' this language
Buy her a car, she gon' switch lanes quick
I got shut up money, I don't explain shit
Do you wanna boss up or just change shifts?
Pretty little jawn and she gets things lit
Baby got a crew on some rich gang shit
PNB and Meek muzzle the same bitch
If you look in her eyes, man that shit's dangerous
On God
On the gang, on bros
No bullshit, you the one D. Rose
Pass me to Pippen, the long nose
Then it's game over, the horn blows
This the last shot
You tryna be on the team or be the mascot?
Wanna be the first lady or the last thot?
I'm payin' Dwayne Wade but I flash knots, woah
I thought you could've been Jordan
Found out that you wasn't even Ben Gordon
Next one get flewed out, I'm keepin' them boardin'
Like Toni Kukoč, I'm foreign, imported, yeah
I cannot bullshit with none of y'all (None of y'all)
I got the bullseye on some of y'all (Some of y'all)
I feel like Michael in '95 ('95)
Back on my bullshit this summer y'all
Más abajo podrás valorar y comentar la canción B.O.M.B.S..
Puntuar 'B.O.M.B.S.'
¿Qué te parece esta canción?
-
0 votos
* Gracias a Artihaust por haber añadido esta letra el 20/11/2019.
Comentar Letra
Comenta o pregunta lo que desees sobre Fabolous o 'B.O.M.B.S.'
Comentarios (3)
+ Fabolous