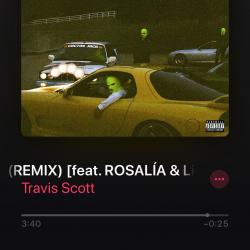 LETRA
Highest In The Room Remix (Letra/Lyrics)
Yeah, yeah, yeah, yeah
[Travis Scott]
I got room, in my fumes (Yeah)
She fill my mind up with ideas
I'm the highest in the room (It's lit)
Hope I make it outta here (Let's go)
[Travis Scott, Rosalía]
She saw my eyes, she know I'm gone (Ah)
I see some things that you might fear
I'm doin' a show, I'll be back soon (Soon)
That ain't what she wanna hear (Nah)
Now I got her in my room (Ah)
Legs wrapped around my beard (Uh)
Got the fastest car, it zoom (Zoom)
Hope we make it outta here
When I'm with you, I feel alive
You say you love me, don't you lie (Yeah)
Won't cross my heart, don't wanna die
Keep the pistol on my side (Yeah)
Case it's fumes
She fill my mind up with ideas (Straight up)
I'm the highest in the room (It's lit)
Hope I make it outta here (Let's go)
Su black Ferrari le doy gas (Uh)
Caballos suenan con delay ('Lay)
Si quieres duro el quiere má'
Aquí siempre hay un beso de ley (Uy)
Si ahora de fiera no me fuera a conocer
Chaqueta al hombro y la cadena hasta el pie
Si ahora de fiera no me fuera a conocer (We can't)
Lolly-lollypop viene cash (Yeah)
Ay, shine ya la' joya' (Yeah)
Balas que duelen por detrás (Yeah)
Broom broom, yo también acicalá ('Cicalá)
Ojalá que me cojas confesá'
[Travis Scott]
Ah, this my life, I did not choose
Uh, been on this since we was kids
We gon' stay on top and break the rules
Uh, I fill my mind up with ideas
Case it's fumes
She fill my mind up with ideas (Straight up)
I'm the highest in the room (I'm the highest, it's lit)
Hope I make it outta here
[Lil Baby]
Baby, I just left from Vegas
Did 'em dirty on the table
Went and bought a new Bentayga
I paid cash, don't see no paper
Buy it, park it, tint it later
All my cars' inside tomato
From Atlanta, not Decatur
I'm the one they say don't play with
Make them boys get on your tater
High-five LeBron, floor seat the Lakers
Get more paper, get more haters
Standin' still, my diamonds skatin'
Fucked her once, she think we datin'
I can spend it, I been savin'
I'ma spin ya, try to play me
I been trappin' up the millions, used to trap it off a RAZR
Back when I was sellin' two-for-five plays, called in my RAZR
Niggas never had to give it to me, I want it, I'ma take it
Guaranteed to tell a ho goodbye if she don't try to get naked
I'm like mmh
Mmh, gotta get up out my room
Got some more bad vibes comin' through
Mmh, she gon' bust a move
Like you do
Datos de esta canción
HIGHEST IN THE ROOM REMIX es una canción de Travis Scott, Rosalía y Lil Baby que se estrenó el . Agradecemos a Hawli por haber sudido la letra de Highest In The Room Remix.
Sobre Highest In The Room Remix
Travis Scott cuenta con la ayuda de Lil Baby para la remezcla de su canción de éxito de octubre de 2019, "Highest In The Room". Se esperaba que Baby apareciera en la versión oficial del sencillo del tema, sin embargo, su verso fue descartado antes de su lanzamiento.
A finales de junio de 2019, Travis interpretó una gran parte de la canción, durante su actuación en Marruecos y el 31 de agosto de 2019, hizo un preestreno del verso de Lil Baby durante un espectáculo en vivo. El 24 de diciembre de 2019, un nuevo fragmento de la canción circuló en línea, antes de que se filtrara toda la canción. Dos días después, Rosalía confirmó su participación en la remezcla a través de Twitter.
Este tema marca la primera colaboración entre Travis Scott y Lil Baby, aunque Travis colabora frecuentemente con el mentor de Baby, Young Thug, y su conodido grupo de rap, Migos.