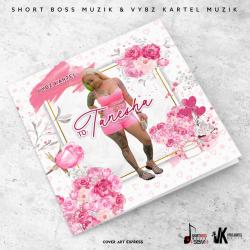 Never Walk Alone
Letra
Vybz Kartel (ft. Jodi Couture, UTG)
LETRA
Never Walk Alone (Letra/Lyrics)
[Verse 1: Jodi Couture]
Bike back bumpa, woii mi set so
[?] anyweh mi trust yuh, mi in love
Twenty five miles [?] go faster
Thirty five, forty five, fifty five, sixty five
Live mi life, you & I
Get di money, f***
Check ir right, no surprises
Anuh mi birthday
Jodi Couture, yuh feel mi? (Yuh feel mi?)
Smoke [?] for a big [?]
Mi nuh trust a next gyal round mi man
Dem [?] gas sniper [?]
Get yuh own, how you figure
Mi cross, angry, Grung Gad Zilla
Knock out a gyal like trilla emanilla
Cute but mi badder dan a thousand pound gorilla
Pull up a mi man yawd.. inna di Bimmer
You ride, mi trust you wid mi life
[Chorus: Vybz Kartel]
I'll die with you
You'll Never Walk Alone
Yes I'll fight for love
Would you care if it hurt?
Someone to cheer you up
Someone to talk about life
We war & fight & make it up
Same time, ain't gon' be scared to talk through
[Verse 2: Likkle Addi]
Dat yuh say?
Gyal a tell mi seh she pretty so mi affi love it
'Mount a pretty gyal mi get mi coulda keep a pageant
Weh dem a imagine we a live real time
Real, real time.. do you have a watch?
No we never stop, we neevr give up
No know doubt cuz we ever been up
Listen girl doh flip up enu
A yesterday mi put yuh head pon mi pillow
Wul dem a seh dem adi best, saggle up
Babes if yuh deejay good you a guh buss
Clarks pon mi foot a Bankrobbers, money nuff
WorlBoss son, a every moon mi a crush
Bronx gyal seh [?] you cute, what di
Likkle Addi dis, remember mi name forever
Latin gyal see mi & a scream "Te Amo"
Jamaican girls
[Chorus: Vybz Kartel]
I'll die with you
You'll Never Walk Alone
Yes I'll fight for love
Would you care if it hurt?
Someone to cheer you up
Someone to talk about life
We war & fight & make it up
Same time, ain't gon' be scared to talk through
[Verse 3: Likkle Vybz]
Babes, you got a younging inna ya life
Jump inna di ride, nuffi walk, you & I ah take a drive
One tweny pon di eighty five
Living a crazy life wid mi lady every night
You know di vibes
Seh later on a she a ride
Mi a tek control, nuh get confused between the lines
Go check the price
If you want it me a buy it
Other couple saw it so
Mi nah go lie, you got di blessing wid
Jucking you fi spite & stroking you fi miles
And me up inna [?] a live me life
No! Me woulda cry
Scrap dat & pree di vibes
Drive wid me into another life
You nav a choice cuz you fi be me wife
Reach you less than five & mek mi feel alive
A so mi know seh you sent from Christ
[Chorus: Vybz Kartel]
I'll die with you
You'll Never Walk Alone
Yes I'll fight for love
Would you care if it hurt?
Someone to cheer you up
Someone to talk about life
We war & fight & make it up
Same time, ain't gon' be scared to talk through.
Datos de esta canción
NEVER WALK ALONE es una canción de Vybz Kartel, Jodi Couture y UTG que se estrenó el . Agradecemos a Vitolín por haber sudido la letra de Never Walk Alone.