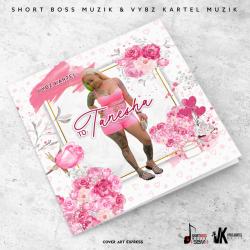 LETRA
Rocket to Da Moon (Letra/Lyrics)
[Chorus]
Yuh put mi heart pon rocket to di moon
Ah like ah [?] inna [?], couldn' move
Sumn like, supersonic interstellar flight
Outta target, outta sight
[Verse 1]
Even though yuh bruk mi heart like ah CD
Ah bagga woman still ah bubble to mi tune
Think about you for ah second, or ah minute, maybe two
But mi still ah live mi life, have mi baby and ah wife
[Hook]
It's alright
I'm cool now
But more while, I'm stressed out
I miss you so much, yeah yuh know now
If good men die young, I'm so cold
[Verse 2]
Look how much time mi message yuh
Tell mi seh di message send
All ah hear yuh battery dead
Yuh lying skill is excellent
Yuh fi rule yuh estrogen
Girl yuh were mi oxygen
So yah roll
Ting cool doh
Cah yuh nah see nuh rope
Mi nuh lose hope
And yuh nah see nuh dope
Weed m'ah smoke, mi ah heal my gope
But it so slow (So slow, so slow, so slow, so slow)
[Chorus]
Yuh put mi heart pon rocket to di moon
Ah like ah [?] inna [?], couldn' move
Sumn like, supersonic interstellar flight
Outta target, outta sight
[Verse 3]
Sometimes I get so mad babes
But most ah di time mi just ah kick it wid mi crew
Wi ah live like seh ah wi ah run Thomas de la Rue
Yeah mi make ah bagga mistake, when I was wid yuh
[Hook]
I know now, I messed up
But more while, I'm stressed out
I miss you so much, yuh know now
If good men die young, I'm so cold
[Verse 4]
Yuh nah give mi nuh loophole
Yuh never diss mi, yuh swore wid [?] buy yuh new clothes
Mi buy mi wife new tings too
Brand new Porsche, di window doh even tint up
So throw yuh insult
Every gyal know seh mi name good [?]
And when yuh see mi flirting, yuh wan' get upset
But yuh doh have nuh time fi get upset
See di ting yuh lef' for NASA, aguh take off deh
[Chorus]
Yuh put mi heart pon rocket to di moon
Ah like ah [?] inna [?], couldn' move
Sumn like, supersonic interstellar flight
Outta target, outta sight
[Bridge]
Yuh put mi heart pon rocket to di moon
Rocket to di moon
Yuh put mi heart pon rocket to di moon
Rocket to di moon
Outta target, outta sight
[Verse 1]
Even though yuh bruk mi heart like ah CD
Ah bagga woman still ah bubble to mi tune
Think about you for ah second, or ah minute, maybe two
But mi still ah live mi life, have mi baby and ah wife
[Hook]
It's alright
I'm cool now
But more while, I'm stressed out
I miss you so much, yeah yuh know now
If good men die young, I'm so cold
[Verse 2]
Look how much time mi message yuh
Tell mi seh di message send
All ah hear yuh battery dead
Yuh lying skill is excellent
Yuh fi rule yuh estrogen
Girl yuh were mi oxygen
So yah roll
Ting cool doh
Cah yuh nah see nuh rope
Mi nuh lose hope
And yuh nah see nuh dope
Weed m'ah smoke, mi ah heal my gope
But it so slow (So slow, so slow, so slow, so slow)
[Chorus]
Yuh put mi heart pon rocket to di moon
Ah like ah [?] inna [?], couldn' move
Sumn like, supersonic interstellar flight
Outta target, outta sight.
Datos de esta canción
ROCKET TO DA MOON es una canción de Vybz Kartel que se estrenó el . Agradecemos a Vitolín por haber sudido la letra de Rocket to Da Moon.