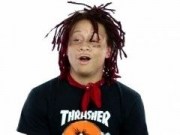 LETRA
Yell oh (Letra/Lyrics)
Yeah, I'm fuckin' this bitch and she givin' me head
She slide on the muhfuckin' dick like a sled (Yeah)
I told that lil' bitch, "Livin' life on the edge" (Yeah, uh)
Yeah, she ride on that dick like some muhfuckin' pegs
I tug on her body, I grip on her legs
Let's play a game of Simon Says
Yell, yell, yell, yell (Yes)
I f*** her, she scream and yell
I f*** her, she scream and yell
Yo, Pi'erre, you wanna come out here?
Damn, son, where'd you find this?
I love Trippie Redd
Yeah, I'm fuckin' this bitch and she givin' me head
She slide on the muhfuckin' dick like a sled (Yeah)
I told that lil' bitch, "Livin' life on the edge" (Yeah, uh)
Yeah (Uh), she ride on that dick like some muhfuckin' pegs
I tug on her body, I grip on her legs
Let's play a game of Simon Says
Yell, yell, yell, yell (Yes)
I f*** her, she scream and yell
I f*** her, she scream and yell
Yell, yell, yell, yell
I f*** her, she scream and yell
I f*** her, she scream and yell
She got good brain like the bitch really went to Yale (She smart, Yale)
I don't do a thing, I just make the bitch scream and yell (Yeah, yell)
Got your boo thing, make a bitch ni*** repel (Bah, bah)
Got the blueprint, pay attention to the details, uh
I'm reclinin' (Yeah), your card declinin' (Okay)
Diamonds 'round my neck, they change the climate, your highness (Okay)
Cuckoo to money and these diamonds, yeah (Go ahead)
She suckin' my dick and I'm all in her jaws
I'm fuckin' this bitch and I'm all in her drawers (Ooh)
Yeah (Uh), I'm fuckin' this bitch and she givin' me head
She slide on the muhfuckin' dick like a sled (Yeah)
I told that lil' bitch, "Livin' life on the edge" (Yeah, uh)
Yeah (Uh), she ride on that dick like some muhfuckin' pegs
I tug on her body, I grip on her legs
Let's play a game of Simon Says
Yell, yell, yell, yell (Yes)
I f*** her, she scream and yell
I f*** her, she scream and yell
Yell, yell, yell, yell
I f*** her, she scream and yell
I f*** her, she scream and yell
Yeah, suck on that dick, yeah, lick on that dick, yeah
Young bitch spazzin', yeah, she drinkin' my spit, yeah (Yeah)
My condo at the Ritz, yeah (Yeah), I ain't go out for shit, yeah
Cum in her hair (Yeah), now it look slick (Yeah, yeah, yeah)
Got a brown bitch with me, I'm callin' her Fudge (Ayy)
I'm chokin' this bitch and she f*** like a slut (Woo)
She told me she thirsty and drinkin' my nut (Young SEX, real cheap, bitch)
I'm chokin' the carbon, I'm tryna see blood
I pour up A&W, drink on the sud
I pour up a Sprite and you know that it's mud
Yeah (Ayy), I'm fuckin' this bitch and she givin' me head (I'm fuckin' this)
She slide on the muhfuckin' dick like a sled (She slide on it, yeah)
I told that lil' bitch, "Livin' life on the edge" (Yeah, uh)
Yeah (Uh, woo), she ride on that dick like some muhfuckin' pegs
I tug on her body, I grip on her legs
Let's play a game of Simon Says (Ha)
Yell, yell, yell, yell (Yes)
I f*** her, she scream and yell (Yeah, yeah)
I f*** her, she scream and yell (Yeah, yeah)
Yell, yell (Yell), yell, yell
I f*** her, she scream and yell
I f*** her, she scream and yell
Racks comin' in (In), incoming mails (Mail)
In the fuckin' Hills (Woo), I just popped a fuckin' pill (Woo)
I just popped a fuckin' seal (Ayy, yeah)
Made a fuckin' deal (Ayy)
I'm a major deal, you's a lil' ni***, uh (Ayy) (Bah)
You ain't fuckin' with me, uh, you's a lil' ni***, uh (Lil' nigga)
You ain't fuckin' with me, uh, you's a rookie ni***, uh
You's a bitch, you's a bitch, you's a lick, ayy (Lil' bitch)
You's a motherfuckin' poop (Bitch), you's a shit stain (Bitch, uh) (Yeah, yeah, yeah)
Yeah, I'm fuckin' this bitch and she givin' me head
She slide on the muhfuckin' dick like a sled (Yeah)
I told that lil' bitch, "Livin' life on the edge" (Yeah, uh)
Yeah (Uh), she ride on that dick like some muhfuckin' pegs
I tug on her body, I grip on her legs
Let's play a game of Simon Says
Yell, yell, yell, yell (Yes)
I f*** her, she scream and yell
I f*** her, she scream and yell
Yell, yell, yell, yell
I f*** her, she scream and yell
I f*** her, she scream and yell
Another foolish child dares to trespass on this wicked place?
Here, now a spell to remove that smile from your pretty face! Hoggles and haggerdash, and eyes of a crow - all powers are mine now, and all that you know!
Datos de Yell oh
YELL OH es una canción de Trippie Redd. Agradecemos a XabiBarna por haber sudido la letra de Yell oh.