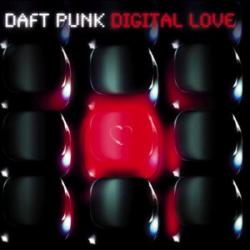 LETRA
Digital Love (Letra/Lyrics)
Last night I had a dream about you
In this dream I'm dancing right beside you
And it looked like everyone was having fun
The kind of feeling I've waited so long
Don't stop, come a little closer
As we jam, the reason gets stronger
There's nothing wrong with just a little, little fun
We were dancing all night long
The time is right to put my arms around you
You're feeling right; you wrap your arms around too
Suddenly, I feel the shining sun
Before I know, this dream is all gone
Ooh, I don't know what to do
About this dream and you
I wish these dream comes true
Ooh, I don't know what to do
About these dream and you
We'll make these dream come true
Why don't you play the game?
Why don't you play the game?
Datos de Digital Love
DIGITAL LOVE es una canción de Daft Punk que se estrenó el , este tema está incluido dentro del disco Discovery.
Sobre Digital Love
Este es el tema número 3 del segundo álbum de estudio de Daft Punk, Discovery, "Digital Love" fue lanzado como el tercer sencillo del álbum en agosto de 2001. Fue un éxito en Europa, a pesar de su modesto rendimiento en las listas de éxitos, pero también recibió una considerable difusión, empezando con un anuncio de GAP de marzo de 2001, con Daft Punk y Juliette Lewis bailando.