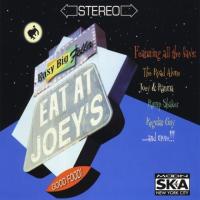 Dorm Room
Letra y Canción
Añadir a Favoritas
Guardar en Playlist
DORM ROOM es una canción de Easy Big Fella del año 1997, este tema está incluido dentro del disco Eat at Joey's.
LETRA
'Dorm Room'
Hey can I stay
Another evening inside your dorm room
No, I can't go
Even though the morning will come soon
Why, are you shy?
Look, your roommate seems to be sleeping
Oooh, you got that smirk!
What on heaven's earth are you thinking?
Hey, got away
Without a written invitation
Hey, got an A
On your continuing education
Why are you shy?
Look, your roommate seems to be winking
Oooh, you've got that look!
What on heaven's earth are you thinking?
(Arrival of the Authorities)