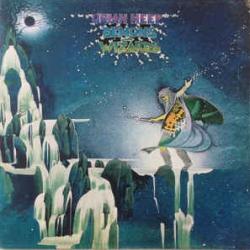 All My Life
Uriah Heep
La canción 'All My Life' se estrenó en 1972. Este tema está incluido dentro del disco Demons and Wizards
Al final de la letra de la canción 'All My Life' podrás puntuar su calidad, comentar sobre ella, acceder a más lyrics de Uriah Heep y a música relacionada.
LETRA
I had a little look
For a minute today
And I told there was something
That I wanted to say
Just sitting there glowing
With her red light on
So I've gotta make fast
And it shouldn't take long
Maybe she will
Maybe she won't
We can get it so together
If she doesn't say don't
I've never ever thought
I was looking for a wife
But I think I could love her
For the rest of my life
I only took one ¿cause
I couldn't take two
I want to make love
And it's gotta be you
Every little thing that
I ever tried to say
Is coming out right
In my own kinda way
Take it, make it
It really feels fine
She must be Lady Luck
If she's gonna be mine
I will love you all my life
Más abajo encontrarás canciones relacionadas con All My Life.
Puntuar 'All My Life'
¿Qué te parece esta canción?
5,00
1 voto
Comentar Letra
Comenta o pregunta lo que desees sobre Uriah Heep o 'All My Life'
Comentar
+ Uriah Heep
Canciones del Disco
Música Relacionada