RUNNIN', RUNNIN'
O, ain't that funny, things we do for love,
Things we do for passion, well I'm feelin' kind of rough.

Too many woman, too many games,
A million faces and a million names,
Don't have much time, ain;t got the patience,
To sit around and think about this hopeless situation

I'm runnin' into the night, Runnin', Runnin',
I've got the power of the moonlight,
Still runnin', can't slow me down, Runnin', Runnin,
Follow my feelings till love comes around.

My, my, my, my baby, you want to catch a falling star,
You want to catch a falling star,
You wanta put it in your pocket, thinking maybe you'll go far,
Oh, but I won't be around to save you, when you take a fall from grace,
I can't take all this madness, it's time to go,
I'm in the race.
Too many cities, Oh so bright,
Too many towns, all neon lights,
I've got to ramble, I can't stay too long,
I'm searchin' for the right one to keep me goin' strong.

It happens over and over again, Oh,
Another night is closin in.

Still a runnin', runnin' baby, I'm tryin' to find you.

Too many cities, Oh so bright,
Too many towns, all neon lights,
I've got to ramble, I can't stay too long
I'm searchin' for the right one
To keep me goin' strong
fuente: musica.com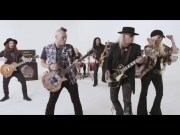 Ficha de la Canción
Título:
RUNNIN', RUNNIN'
Grupo/Cantante:
BLACKFOOT