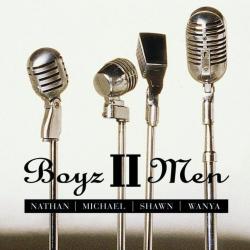 Dreams
Boyz II Men
La canción 'Dreams' se estrenó el . Este tema está incluido dentro del disco Nathan Michael Shawn Wanya
Al final de la letra de la canción 'Dreams' podrás puntuar su calidad, comentar sobre ella, acceder a más lyrics de Boyz II Men y a música relacionada.
LETRA
Here I am again
Wondering if you're okay
Can't stop this troubled heart
'Cause we're apart, miles away
Phone pressed up to my ear
Wish you were here, holding me
A face to go with your sweet voice
Will bring me joy, totally
Chorus:
I know I can't be there
Baby it's alright
I'll be waiting for you tonight
I pray that you'll be there
When I close my eyes
Meet me in my dreams tonight
One thing that never changes
No matter what
I can't wait to see you
Can't wait to feel you
And there's a place of ours, where we can go
Nobody knows
I close my eyes real tight
And make love to you all night
Chorus
I wish I may, I wish you might
Find some time when you sleep tonight
To think of me and I'll appear before your eyes
It's my paradise, your world
You're my heart, my life, my girl
Oooh, can't wait to go to sleep
'Cause there's a possibility, you'll meet me
Ohh, oh oh oh oh
Ohh yeah, oh yeah
I know...
Chorus x 2
Más abajo podrás valorar y comentar la canción Dreams.
Puntuar 'Dreams'
¿Qué te parece esta canción?
-
0 votos
Comentar Letra
Comenta o pregunta lo que desees sobre Boyz II Men o 'Dreams'
Comentarios (3)
+ Boyz II Men
Canciones del Disco