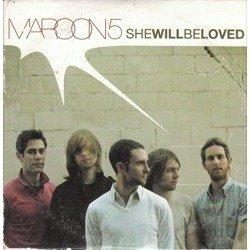 LETRA
She Will Be Loved (Letra/Lyrics)
Beauty queen of only eighteen
She had some trouble with herself
He was always there to help her
She always belonged to someone else
I drove for miles and miles
And wound up at your door
I've had you so many times
But somehow, I want more
I don't mind spending every day
Out on your corner in the pouring rain
Look for the girl with the broken smile
Ask her if she wants to stay a while
And she will be loved
And she will be loved
Tap on my window, knock on my door
I want to make you feel beautiful
I know I tend to get so insecure
Doesn't matter anymore
It's not always rainbows and butterflies
It's compromise that moves us along, yeah
My heart is full and my door's always open
You come any time you want, yeah
I don't mind spending every day
Out on your corner in the pouring rain
Look for the girl with the broken smile
Ask her if she wants to stay a while
And she will be loved
And she will be loved
And she will be loved
And she will be loved
I know where you hide
Alone in your car
Know all of the things that make you who you are
I know that goodbye means nothing at all
Comes back and makes me catch her every time she falls, yeah
Tap on my window, knock on my door
I want to make you feel beautiful
I don't mind spending every day
Out on your corner in the pouring rain, oh
Look for the girl with the broken smile
Ask her if she wants to stay a while
And she will be loved
And she will be loved
And she will be loved
And she will be loved
I don't mind spending every day
Out on your corner in the pouring rain
Please don't try so hard to say goodbye
Datos de esta canción
SHE WILL BE LOVED es una canción de Maroon 5 que se estrenó el , este tema está incluido dentro del disco Songs About Jane.
Sobre She Will Be Loved
"She Will Be Loved" es el tercer sencillo lanzado del álbum debut de la banda en 2002, Songs About Jane. La canción alcanzó su punto máximo en el número cinco en los Estados Unidos (convirtiéndose en su segundo top ten allí), en el número cuatro en el Reino Unido y en el número uno en Australia (durante cinco semanas consecutivas). Hasta junio de 2014, la canción había vendido más de tres millones de copias en los Estados Unidos.