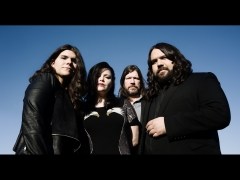 Idea of a Feeling
The Magic Numbers
LETRA
I may have had an idea of a feeling
But it disappeared just as I was reaching
Now I think of all the nights I spend drinking
And if all my nights are grey
What if all you nights are grey
Oh there's a hole in the hall
And I'd give everything just to know
That you're looking in and you call me
Oh but don't forget to leave, at least your heart aches
And I've been trying to cry
Oh I've been a fool but I'm trying
And now all my nights are grey
What if all your nights are grey?
Oh there's a hole in the hall
And I'd give everything just to know
That you're looking in and you call me
Más abajo encontrarás canciones relacionadas con Idea of a Feeling.
Puntuar 'Idea of a Feeling'
¿Qué te parece esta canción?
-
0 votos
* Gracias a van182 por haber añadido esta letra el 12/5/2006.
Comentar Letra
Comenta o pregunta lo que desees sobre The Magic Numbers o 'Idea of a Feeling'
Comentar
+ The Magic Numbers