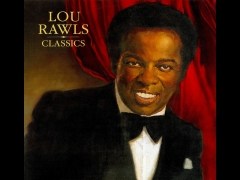 Wife LETRA
Lou Rawls
Añadir a Favoritas
Al final de la letra de Wife podrás comentar sobre ella o acceder a más canciones de Lou Rawls y a música relacionada.
Wife
She hates my mama
She hates my daddy too
She love to tell me
How much she hates the things I do
She love to lie beside me almost every night
She's no lady, She's my wife
The preacher asked her
And she said I do
The preacher asked me
And she said yes he does too
The preacher said I now pronounce you 99 to the life
She's no lady, she's your wife
And I can't remember
How I met her
It's like she's always been a-hanging off my arm
And I can't remember
How I ever
Thought I couldn't live without a woman's charm
And even though
She likes to smell a Frnch perfume
And even though
She walks around in high-heel shoes
All I know
Is I'm the one who pays the price
She's no lady, she's my wife
Más abajo podrás valorar y comentar la canción Wife.
Puntuar 'Wife'
¿Qué te parece esta canción?
-
0 votos
* Gracias a Rockandrocklera por haber añadido esta letra el 9/10/2006.
Comentar Letra
Comenta o pregunta lo que desees sobre Lou Rawls o 'Wife'
Comentar
+ Lou Rawls