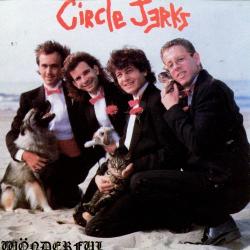 American Heavy Metal Weekend
Circle Jerks
La canción 'American Heavy Metal Weekend' se estrenó en 1985. Este tema está incluido dentro del disco Wonderful
Al final de la letra podrás puntuar su calidad, comentar sobre ella, acceder a más canciones de Circle Jerks y a música relacionada.
LETRA
The Japanese are buying up on guitars
Invade our beaches, driving cars
Hondas, Toyotas, Insuzurus
Fight 'em beat 'em got a lot to loose
Fenders, Gibsons, stack 'em high
Stack 'em up against the sky
Speakers blasting, blasting in vans
Make them wish they didn't land
[Chorus:]
1, 2, 3
It's an American heavy metal weekend
It's an American heavy metal weekend
The English, sure we'll give 'em a break
With their Hiwatts and their Marshalls
It started here make no mistake
It's alway real and never fake
Platform boots and puffy hair
Gotta raise and scare
Metal merchants peddle their wares
No U.S. made buyer beware
[Chorus]
What I want, what I need is
Made here in the U.S.A.
Never ashamed, always proud
Always hard, always loud
Amplifiers vibrate across the globe
Send those rats in their holes
[Chorus]
Más abajo encontrarás canciones relacionadas con American Heavy Metal Weekend.
Puntuar 'American Heavy Metal Weekend'
¿Qué te parece esta canción?
-
0 votos
* Gracias a van182 por haber añadido esta letra el 21/10/2006.
Comentar Letra
Comenta o pregunta lo que desees sobre Circle Jerks o 'American Heavy Metal Weekend'
Comentar
+ Circle Jerks
Canciones del Disco