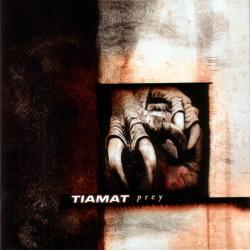 Love in Chains
Tiamat
La canción 'Love in Chains' se estrenó en 2003. Este tema está incluido dentro del disco Prey
Al final de la letra podrás puntuar su calidad, comentar sobre ella, acceder a más canciones de Tiamat y a música relacionada.
LETRA
I shout and call for rejoicing
I hear the sound of angel wings
Escape us as we close the ring
And into the fire we will fall
Our desire, our flame, our call
So be it, once for all
And you are the dream and I am the lie
I am the Devil and you are my disguise
I'm all the pain you always tried to keep inside
Love in chains
We break free
There is a time
For you and me
Not today
Not tomorrow
But one day our sorrow
Shall go away
All our being is spellbound
A black magic hellhound
Let us have another round for our love
Many hours we shall wait
But it will never be to late
In life or death we'll intergrate one day
Trough rain and stormy weather
Shall always be together
Together here forever
Forever...
Divided
The marriage has gone to my head
The wedding trumpets are dead
Replaced by a static noise
So loud that I can't hear my own voice
Will those signs lead me out of here
Well, just take me somwhere
To the planes where angels sing
Trough the chime and the clattering
For what it's worth the truth might hurt you
There is a little you can do
When shadows fall I will desert you
Then that's what you will do
For what it's worth the truth might hurt you
And with a tear of morning dew...
My temples born anew
Lead me inside
Lead me inside
Lead me inside out of the cold
Let me inside
Feel me inside
When the seed is sown
Our love's dead by dawn
And as the day begins
The sun is soothing my skin
And I am divided
I am divided
For love
I have to say
That all of this time
I waited for someone like you
Your are my dream
Your are my dream
Your are my dream
Más abajo podrás valorar y comentar la canción Love in Chains.
Puntuar 'Love in Chains'
¿Qué te parece esta canción?
-
0 votos
* Gracias a denisita... por haber añadido esta letra el 26/10/2006.
Comentar Letra
Comenta o pregunta lo que desees sobre Tiamat o 'Love in Chains'
Comentar
+ Tiamat
Canciones del Disco