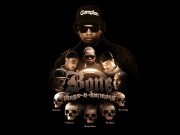 LETRA
Wake up, wake up, wake up its tha 1st of tha month.
Get up, ge tup,get up so cash your checks and come on.
(chorus) 4X

Hey my niggaz we're having a wonderful day,
and I won't front wit ya.Why? Cuz it's tha 1st
of tha month and now we smoking, choking, rolling,
buzzing, sipping on 40 ounces thuggin'
come come we got tha blessed rum.

From choking all night we high. Give it up got towhere?
East 99. I get wit my niggaz they give me some yayo,
double up nigga what you need, we got weed to get POD,
think for tha green leaves, double up tha 1st
tha show better lay low, cuz popo creep on tha roll so.
Wait, can't, can't get away but toss that yayo keep your bank roll.
Yeah, we're having a celebration, a first day out.
And you better believe when it's time to grind I'm down
for mine crime after crime. Better creep to tha pad cuz
mom's got grubs on tha grill. If we got tha food ooh,
you know it was tha 1st of tha month my niggaz we chills for real.
(chorus) 4X

nigga and I see that my sista was already dressed.
She said I'm gonna run and go get my stanze.
Watch and make sure no ones natches my jacket that's tha mailman,
sort thru tha mail and put it up in name pocket savin' it.
Hitting it tha ninety nine and giving it up a4-tay no wanna
know fuckin' run dead, freedom. Hop on tha 10 to tha click.
Ready to get dem up put dem up thru, and cash that dum,
and I gotta get there there there hello, hello St. Clair
got much to offer. When I have any weed on 93,
I hop on tha glock glock for some dollarz.

So get a bag of dope on tha corner oh.
Most of my niggaz got tha same, and we're gonna roll
dem on up and smoke. Hitting that reefer hydro,we know
they got some fuckin' popo. Tossing that nickel and roll,
we're gonna say mo. Running thru tha alley and in a melee,
up on tha second tha sundown. Those run from,
January November December remember another 1st of tha month.
(chorus) 4X
Cuz it's tha 1st of tha month. Gotta grind gotta get mine,
in tha hood that I clim I slang on that double 9.
Gotta find dem doves,taggin' for killa thuggin' love, whats up.
Come and stand on my corner,niggaz yo gonna, St. Clair
niggaz don't like that. And selling them dummies making that money,
come back niggaz pap pap. From tha 1st to tha15th,
niggaz smoke plenty weed, but I gotta save gotta come up.
Put my rocks in tha cut, when I get high gotta place that drum,
huh. Gotta roll to tha pad, count up my profits and add it
to that stash. Gotta watch my back see,
for niggaz trying to rob me, fool. But neva no shortless'
no losses don't be keepin' these niggaz up off me see.
Get up a hold of a car, steal a couple of beers, uh,
smoke a lot of weeds on tha 1st.
(chorus) 4X

Waking up feeling tha buzz up early in tha morning stretchin'
I'm down and light weight bit chugga lugga take a fist
to tha dome. And still that they kick wit my trues but
a nigga is 1st so I'm getting my hustle blown. Up on tha phone,
calling up Krayzie B.O.N.E.. Wanna know did your O.G. check come?
"She put me down." Or I hop on tha bus wit Biz. "Let's get drunk.

" And I'm coming wit blunts after blunts of this skunk nigga
Te just put me down. Oh God how I love when tha 1st come
around now, me feelin' black and mild, negroes town
Cuz niggaz tha1st get celebrated, rushing to tha block
cuz I don't wanna get faded. Niggaz know why cuz
I'm getting me hair braided, we heavy off into this game.
True to tha 1st just call me that po slang.

Tha nickels and dimes in 20's n' 50's tha 1st be tha
day for that dope mans lingin' that cocaine fool,
and I'm working late tonight. And all demfriends be lovin'
dem thugs cuz they got dem rocks for dem price come come
wit tha ease I gotta get paid on tha 1st gotta blaze up no splif.
Get live wit tha Bone Thugs, Poetic Hustlas,
and tha Graveyard Shifts, on tha 1st.
(chorus) 8X
fuente: musica.com


X