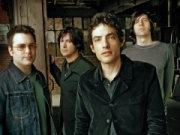 Letras de The Wallflowers
90 canciones disponibles
Sobre The Wallflowers
The Wallflowers es un grupo de rock alternativo formado en Los Ángeles a principios de los 90.

Integrantes:

Jakob Dylan (vocalista y guitarrista), Fred Eltringham, Rami Jaffee y Greg Richling.
The Wallflowers no está entre los 500 artistas más apoyados y visitados de esta semana.

¿Apoyar a The Wallflowers?

Ranking SemanalMedallero
Jakob Dylan (Nueva York, 9 de diciembre de 1969) es un músico estadounidense, más conocido por ser el vocalista líder y escritor de la banda de rock The Wallflowers y actualmente por colaborar con Overflow Crowds Band. Es el hijo menor del cantautor Bob Dylan y Sara Lownds.