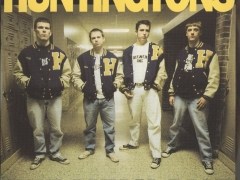 Veronica
The Huntingtons
Al final de la letra de la canción 'Veronica' podrás puntuar su calidad, comentar sobre ella, acceder a más lyrics de The Huntingtons y a música relacionada.
LETRA
Woh-oh veronica, i think i love you
i never wanna put anybody above you, no
'cause you're the only one for me
veronica i wanna kiss you
don't wanna give myself a chance to miss you, no
'cause you're the coolest girl for me
do you remember the night at the dance
when i walked up to you and i took your hand
and we danced all night and i held you so tight
do you remember the night when i walked you home
and all the times we talked on the telephone
and all the silly things you said to me
Más abajo podrás valorar y comentar la canción Veronica.
Puntuar 'Veronica'
¿Qué te parece esta canción?
-
0 votos
* Gracias a MiNgO por haber añadido esta letra el 2/6/2007.
Comentar Letra
Comenta o pregunta lo que desees sobre The Huntingtons o 'Veronica'
Comentar
+ The Huntingtons