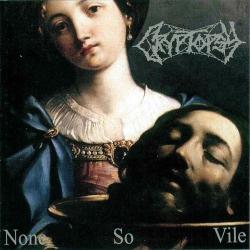 Lichmistress LETRA
Cryptopsy
Añadir a Favoritas
'Lichmistress' se estrenó en 1996. Este tema está incluido dentro del disco None So Vile
Al final de la letra de Lichmistress podrás comentar sobre ella o acceder a más canciones de Cryptopsy y a música relacionada.
Our lady of seven sorrows,
Mother of mourning, precious lich...
A white horse found your grave,
Then it was beheaded.
The funeral goat's semen
Annoints your resting place.
Far below, the state you're in replenishes
My well of loss
As things from beyond watch as you rot
Beneath me.
Wretchedly, I pine as I begin at once to claw
The earth
To free you from the worms, to free you
From damnation.
The stake in your bosom pains me too...
Wistfully, I gaze into those empty holes
Which once were eyes
That beheld so much blood, that beheld so
Much evil...
Cyanotic lips caress the cold grey face of
One interred
Whose flesh is much too frail, whose flesh
Begins to quiver.
Mistress of my flesh,
Your servant longs for your kiss,
To hold you once again,
All pretty with blood...
Now shall all of heaven weep.
Más abajo podrás valorar y comentar la canción Lichmistress.
Puntuar 'Lichmistress'
¿Qué te parece esta canción?
-
0 votos
* Gracias a creed_bullets por haber añadido esta letra el 14/9/2007.
Comentar Letra
Comenta o pregunta lo que desees sobre Cryptopsy o 'Lichmistress'
Comentarios (2)
+ Cryptopsy
Canciones del Disco