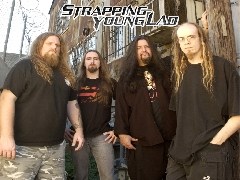 'We Ride' se estrenó el . Esta canción está incluida dentro del disco Alien.
LETRA 'WE RIDE'
WHAT? are you DOING in MY FACE!?!
WHERE, are you GOING, with ALL HASTE
HOW did this BEGIN? Why did we start this?
And WHY can't you remember???
GODDAMN YOU
GODDAMN YOU
Why don't you ever think
about these things that you say?!
Your words are there for us
to deconstruct anyway
YES you ARE a product of that environment...
but CHANGE is ALWAYS THERE...
IF YOU WANT IT!!!
Cold and foreign, spirit broken...
PLEASE can we go home????
NO!!!
[Solo 1...The Dev]
[Solo 2...Sinsimon]
WHAT THE F*** WAS THAT???!!!
I'M BEING COMPLETELY RATIONAL...
I'M NOT YELLING!!!!!!!
IN EVERY RELATIONSHIP
THERE HAS TO BE COMPROMISE
AND EVERY ONE OF THEM HAS BAGGAGE...
I KNOW I HAVE MY ISSUES...
AND WE! KNOW! YOU! HAVE! YOURS!!!!
PUT IT IN GEAR MOTHERFUCKR!!!!!
For tonight...WE RIDE!!!!
DENY THE RIDE...
YOU AND I, CONNECT AND EMERGE.