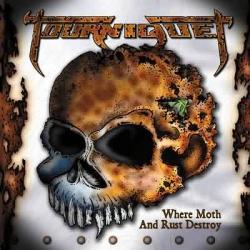 Architeuthis
Tourniquet
La canción 'Architeuthis' se estrenó en 2003. Este tema está incluido dentro del disco Where Moth and Rust Destroy
Al final de la letra de la canción 'Architeuthis' podrás puntuar su calidad, comentar sobre ella, acceder a más lyrics de Tourniquet y a música relacionada.
LETRA
There is a beast that does exist
Not just a myth - the facts persist
Known from the dead that washed ashore
From modern graphics to old folklore
Not yet one ever seen alive
Though scientists and divers strive
Architeuthis - show yourself to us
Among the largest of the planet
The giant squid - the architeuthis
How can this massive creature
Escape the hordes of searching eyes
Escape the wisdom of the wise
Escape the sonar, the bathyscaphe
Returns with countless plotted graphs
Architeuthis - show yourself to us
I know a God I've never seen
Not merely just a wishful dream
Alive, but not for us to see
But living in the hearts of men
So great is His love for us
Yet many seekers look in vain
If you will set aside your pride, your arrogant façade
Then you can enter into grace
Architeuthis show yourself to us
Let us gaze at your haunting frame
We know you're real - no longer conceal
What bloated corpses already revealed
The last of the giant living mysteries
Architeuthis - show yourself to us
Más abajo encontrarás canciones relacionadas con Architeuthis.
Puntuar 'Architeuthis'
¿Qué te parece esta canción?
-
0 votos
* Gracias a creed_bullets por haber añadido esta letra el 29/11/2007.
Comentar Letra
Comenta o pregunta lo que desees sobre Tourniquet o 'Architeuthis'
Comentar
+ Tourniquet
Canciones del Disco