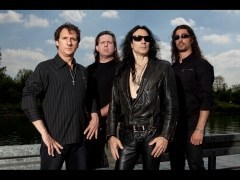 LETRA
Rain of Fire (Letra/Lyrics)
WE SUMMON THE SONS OF ANU,
SPIRITS OF LIVING FIRE!!!In the night we gather for the slaying of the beast
The chosen kings of fire summoned by the priests
lord give me strenght to crush my enemies
Their pain and their suffering will be music to my ears
RAIN OF FIRE - wash away my pain, wash away my fate
Let me rise up born again
RAIN OF FIRE - blood runs from the sky, I'm the lord of flies
On the wings of hate I rise
Soon it will be over abd we'll gather for the feast
Hear the weeping of their woman as they grovel at our feet
The gods have shown their favor, my victory is known
Your gods have proven false, your death is mine to own
RAIN OF FIRE - wash away my pain, wash away my tears
Let me rise up born again
RAIN OF FIRE - give power to my call, devouring their flesh
Purify as all - RAIN OF FIRE
Trample to dust in the fire of lust
With fire we slay all who stand in our way
A covenant bound in the world underground
We slash and we strike see your head on a spike
Once free and so brave, now your people are slaves, oh...
RAIN OF FIRE - the sons of Anu rise, the fields of blood are mine
On a burning horse I ride
RAIN OF FIRE - ravager of towns our covenant is bound
In your kingdom underground
RAIN OF FIRE - rape our enemies, burn their village bright
In a golden wall of light
RAIN OF FIRE - blood runs from the sky, the veils of death divide
And the crucified arise - RAIN OF FIRE!!!
Datos de esta canción
RAIN OF FIRE es una canción de Virgin Steele. Agradecemos a Kenshinrev por haber sudido la letra de Rain of Fire.