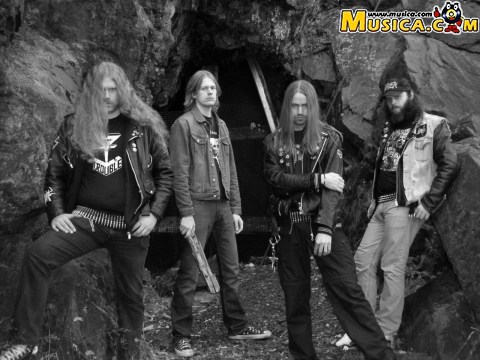 Buried by Me
Nominon
LETRA
Never realised who my enemy was
Some kind of figure, vengeance in sight
Grabbed a knife, never thought twice
Just waited here to feel secure
Breathing slow don't make a sound
For some reason I fell asleep right there
My mind sank into a bloodred mess
Groteaque thoughts of despair
Killing time with my friends at the graves
Horrible visions of the dead inside my head
What is real and what is fantasy
Breathing deep don't loose your mind
A visitor from beyond
Appearance like Hell, I was convinced
Alone I had to commit this satanic act
Some one always has to face the facts
The violence that occured that night
I should have kept it far from the light
If I just could have erased my own mind
Reminding voices how can you make the dead die?
Insanity your about to loose your mind
Some half dozen corpses
Told me to marry her
The rest just reminded me
Where to bury her
Entered the societies below
Felt like home relieved after all
No question of what's left for me to do
Open the black fuc*** gate for all of you too
Are you alive or is it a lie?
Some of you told me that I should've
Married her
But all I can remember is where I buried her
I guess I knew it all along
I killed the enemy
I buried you
Más abajo podrás valorar y comentar la canción Buried by Me.
Puntuar 'Buried by Me'
¿Qué te parece esta canción?
-
0 votos
* Gracias a Inferno666 por haber añadido esta letra el 9/3/2008.
Comentar Letra
Comenta o pregunta lo que desees sobre Nominon o 'Buried by Me'
Comentar
+ Nominon