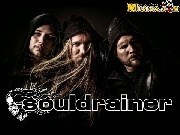 LETRA
Tonight I walk the same round.
The shadows has left me,
the worries are left alone.
Tonight I will not look back.
Cause this time I will be, finally free.
If there was a god.
He would have been me.
This is my Black Thirteen.
I hold the world in my hands.
I mold it like clay.
Untouchable unstopable no remorse
only me.
Come on take my hand let me drain your body.
You signed on the dotted line with your blood.
I've kept my promises now it's time.
Come on walk with me and spin the wheel of fortune.
You can use the time to say goodbye,
if the numbers let you down.
You've seen yourself through my eyes
rolling the dice.
[CHORUS]
I roll the dice, play with life, one more time
Be my Black Thirteen.
I closed my eyes, screamed inside and realized.
Be my Black Thirteen
Time stopped, my blood froze to ice.
Be my Black Thirteen.
I took the vacant place and I shall rest with
number thirteen.
fuente: musica.com


X