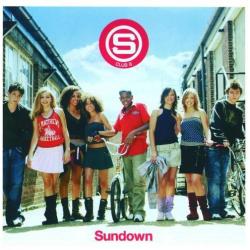 I Just Came To Dance
S Club 8
La canción 'I Just Came To Dance' se estrenó en 2003. Este tema está incluido dentro del disco Sundown
Al final de la letra de la canción 'I Just Came To Dance' podrás puntuar su calidad, comentar sobre ella, acceder a más lyrics de S Club 8 y a música relacionada.
LETRA
I Just Came To Dance [X3]
I see the DJ smile at me
But I aint living in a fantasy
And the crowd pressing down on me
The music taking them to ecstasy
And they want love, love, love, love, love [X2]
I need the music they need romance
But i feel love every time I dance
The drum beat pulsing
Throught my veins
And the rhythmns driving me insane
Cos when the music's right, it
keeps you up all night There aint
no money that this honey can't buy
And if you want to be part of this
fantasy I'll guarantee that there's
no one left but me
[Chorus]
Dancing to the music
it's all that i know
Just give me the dance floor baby
You can take it all but leave me dancing at the disco
I feel the bass fill the room
And now i'm dancing to my
favourite tune
Ooh and the rhythmn pulling me on
He's talking to me as he
sings his song
I Just Came To Dance [X3]
He sings of love love, love, love, love, love [X2]
[Bridge]
[Chorus]
[Breakdown]
[Chorus]
Más abajo podrás valorar y comentar la canción I Just Came To Dance.
Puntuar 'I Just Came To Dance'
¿Qué te parece esta canción?
-
0 votos
* Gracias a kira 1998 por haber añadido esta letra el 31/8/2008.
Comentar Letra
Comenta o pregunta lo que desees sobre S Club 8 o 'I Just Came To Dance'
Comentarios (2)
+ S Club 8
Canciones del Disco