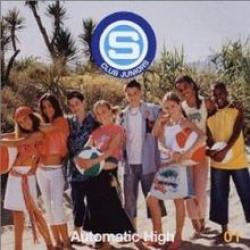 Automatic High
S Club 8
La canción
'Automatic High'
se estrenó en
2002
.
Al final de la letra de la canción 'Automatic High' podrás puntuar su calidad, comentar sobre ella, acceder a más lyrics de S Club 8 y a música relacionada.
LETRA
You give me that special feeling boy, I've been awake all night, and theres a beat inside my heart again, its working overtime. No-ones moved me in this way before its all so brand new, you got me so i dont no where i am, or what im gonna do. But im ready, anytime, automatic high, i got one thing on my mind, automatic high. When i hear you calling out to me, it makes me come alive, and all the fears now seem to fade away, ive kissed the past goodbye. But i'm ready, anytime, automatic high, and i'm walking over cloud nine, automatic high. Every step every breath every beat of my heart coming on like a new sensation, its just so easy, its automatic, automatic, automatic, high, high, high, high. Automatic, automatic high (until fade).
Más abajo encontrarás canciones relacionadas con Automatic High.
Puntuar 'Automatic High'
¿Qué te parece esta canción?
-
0 votos
Comentar Letra
Comenta o pregunta lo que desees sobre S Club 8 o 'Automatic High'
Comentarios (2)
+ S Club 8