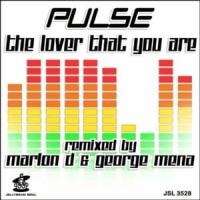 The Lover That You Are
Letra y Canción
Añadir a Favoritas
Guardar en Playlist
THE LOVER THAT YOU ARE es una canción de Pulse que se estrenó el .
LETRA
'The Lover That You Are'
I don't wanna feel no pain
I don't wanna play this game
Baby come show me the way
Bring me to a better day
Everything i need the more
Come'on here and let's explore
Satisfy and don't deny me
Baby come on here each other
Neveeeeerrr (never)
Hey, how you're doing? Where you've been?
I have outside you All night long
Can this scratch What you did
But you got me so..
Gotta let me Love you all night long
Gotta let me move you with the song
Gotta show me how my love
i'll do for you
When you think you need to turn you on
When you think to get it going on
Everything you want my love
I'll give t'you
Until tomorrow
Show me the lover that you are
All throught tomorrow
i'll be the lover that you are
(The lover that you are)
UuUuuUu
YeEEeAaAah
You slowly move while your kissing
and the rest of me all going down
let me do that to you
I'll be your heavy bring, baby
Gotta let me Love you all night long
Gotta let me move you with the song
Gotta show me how my love
i'll do for you
When you think you need to turn you on
When you think to get it going on
Everything you want my love
I'll give t'you
Until tomorrow
Show me the lover that you are
All throught tomorrow
i'll be the lover that you are
Can't you tomorrow
Show me the lover that you are?
I will tomorrow, Oh Yeah
I'll be the lover that you are