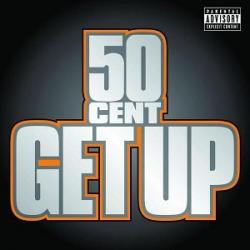 LETRA
Get Up (Letra/Lyrics)
Man ima go do ma thang,(get up)
its crazy in the club when im in there man,(get up)
Trust me homie im not playin(get up)
ill have the dance floor of the chain, i said(get up)
I came to bring you that california love
and we know new york hates all of the above,
im not playin, im sayin im of the chain,
you niggaz better follow instructions, i said(get up)
(First verse)
I ball to i fall, stunt to i drop,
im of the showroom floor, not the used car lot,
you buy a bottle, i buy the bar,
i make everyday of the week feel like mardygra,
when i get into it, i get in to it,
everybody cant do it the way i do it,
i make it rain, to the sun come out,
A ni*** playin? we make the gunz come out,
My question is, who the goin to blame?
when im back number 1 on the billboard again,
Shit flipped now, the game done changed,
since mike made thriller and prince made purple rain,
i guess i make the kids wanna slang,
and NWA made the westcoast bang,
Na its just music, man its just music,
Now get ur ass on the dancefloor and move it.
I have the south locked down,
im the reason everybody here, i said (get uo)
im make it hot, i make it hot in here,
your feet hurtin? i really dont care, i said (get up)
i wanna see ya, i wanna see you move,
and get all into the groove, i said (get up)
im gettin money man, i really dont care
let me see you put your hands in the air, i said (get up)
You look good, i wanna get to know you baby,
you look good in them jeans and them red stelletos,
you got a bently coupe booty, baby i wanna drive,
ima tell you what your milage is when im inside,
ima take you for a spin, you know - round and round,
switch gears to you look, im down,
i take you to the point of no return,
if ya listen you learn,
just how a ni*** earn, i got money to burn
Datos de Get Up
GET UP es una canción de 50 Cent que se estrenó el , este tema está incluido dentro del disco Best Of. Agradecemos a G-unit0025 por haber sudido la letra de Get Up.