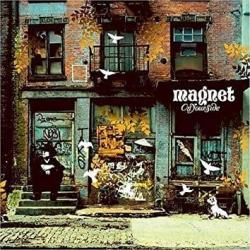 Smile To The World
Magnet
La canción 'Smile To The World' se estrenó en 2003. Este tema está incluido dentro del disco On Your Side
LETRA
Please could you tell me why the hell you are so sad
Is it something I've said, something I haven't said,
Or are you just bringing out your dead?
D don't worry baby, I'll be right beside you
I won't push you away
I won't push you to stay
I only wish I knew how to get you through the day
Please let me tell you, for whatever it is worth
I found the sunken treasure, buried beneath your perfect breasts
And like a lover should, I'm sticking up for you
Even when I know you're wrong
So baby, smile to the world, although it never seems to smile back...
Más abajo podrás valorar y comentar la canción Smile To The World.
Puntuar 'Smile To The World'
¿Qué te parece esta canción?
-
0 votos
* Gracias a Tiezok por haber añadido esta letra el 22/1/2009.
Comentar Letra
Comenta o pregunta lo que desees sobre Magnet o 'Smile To The World'
Comentar
+ Magnet
Canciones del Disco