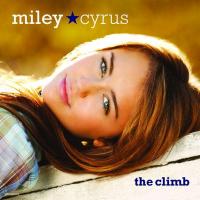 Letra y vídeo de The climb
I can almost see it
That dream i'm dreaming but
There's a voice inside
My head saying
You'll never reach it
Every step i'm taking
Every move i make feels
Lost with no direction
My faith is shaking
But i , gotta keep trying
Gotta keep my head held
High
There's always gonna be
Another mountain
I'm always gonna wanna to
Make it move
Always gonna be an uphill
Battle
Sometimes i'm gonna have
To lose
Ain't about how fast i get
There
Ain't about
What's waiting on
The other side............
It's a climb
The struggles i'm
Facing
The chances i'm taking
Sometimes might knock me
Down, but
No i'm not breaking
I may not know it but
these are the moments
That
I'm going to remember most
Yeah
Just got to keep going
And i ...
I got to be strong
Just keep pushing on...
Cause There's always gonna be
Another mountain
always going to want to
make it move
always going to be an uphill
battle
sometimes you going to have
to lose
ain't about how fast i get
there
ain't about what's waiting on
the other side....
it's a climb
there's always gonna be
another mountain
i'm always gonna want to
make it move
always gonna be an uphill
battle
sometimes i'm gonna have
to lose
ain't about how fast i get
there
ain't about what's waiting on the other side.....
it's a climb
yeah..
keep on moving
keep climbing
keep the faith baby..
it's all about
it's all about
the climb...
keep the faith
keep your faith..
ohh
ohhh........
Agradecemos a zanessaosexy por haber sudido la letra de The climb.
Sobre The climb
"The Climb" es una balada de country pop power en la que Cyrus canta sobre lo gratificante que es el viaje de la vida a pesar del inseguro final. La canción fue lanzada como el single principal de "Hannah Montana": La banda sonora de la película. En el contexto de la película, la canción describe la importante lección que Miley Stewart, interpretada por Cyrus, tuvo que aprender en su ciudad natal para comprender y apreciar mejor la vida fuera del estrellato pop creado por Hannah Montana.



La canción se convirtió en un éxito comercial instantáneo al alcanzar su punto máximo en el número 4 del Billboard Hot 100. Fue el primer sencillo solista que Cyrus  lanzó a la radio country. La canción recibió elogios de la crítica musical que elogió la voz y la letra de Cyrus.