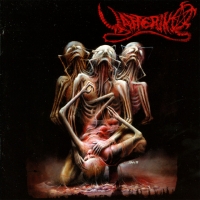 The Feeling
Letra y Canción
Añadir a Favoritas
Guardar en Playlist
THE FEELING es una canción de Yattering, este tema está incluido dentro del disco Human's Pain.
LETRA
'The Feeling'
Spotted with woman's blood
I feel her smell around
Eyes starring at abyss - disappointed
- Why death and rape connect me - with it...
Her arms - pointed with long sharpens
Her face - maltreated -
crooked with deadly grimace
Where should we hide
Leave stuff...How I wanted it...
No, nobody can remember eyes... -
massacred...
- Face has to disappeared
No, nobody can find it... earth...cold...
- Swallowing young beauty
I felt you - connected with this body in ecstasy
I wanted - your every move sight body
You burnt me - nothing couldn't stop me
I felt close to you
You're standing next to me
You're dancing with your hands and body
My desire is growing...kiss...love sewer...
My desire is growing...sharpens...
kiss...blood...love sewer...
Usual unpower Too proud -
I made bloody thoughts
Jealousy - Contempt for usual creature
Feeling - is growing
Thoughts - unfinished war - pain - murder
I'm tearing you madness screw
I'm connected you with death...