MEN ARE ALL THE SAME
The Used
Letra de la canción
Always safe to know what is good for taking blood stains from your clothes.
Like I said before, when I bite your tongue out of your mouth, you'll know.

Just what am I supposed to say?
And tell you why I turned out this way?
Don't make me. Don't make me.

If you love it, then let it go.
And how I died, you'll never know.
Just don't blame me. Don't hate me.

You'll never make it alone.
It's easier to go.
You've always been on your own.
It's easier to go.

Nothing safe feels real.
Waiting here to die.
Just hoping I reveal. There's something.

Picking up my brains.
You can tell your mom that men are all the same.
Just what am I supposed to say?
And tell you why I turned out this way?
Don't make me. Don't make me.

If you love it, then let it go.
And how I died, you'll never know.
Just don't blame me. Don't hate me.

You'll never make it alone.
It's easier to go.
You've always been on your own.
It's easier to go.

You'll have to pay to watch me die.
Then I'll love you more.
You'll never make it alive.
It's easier to go. It's easier to go.

Nowhere to go. I'm not leaving. I'm not going.
I'm not kissing you good bye. On my own.
I'm nothing. Just bleeding
fuente: musica.com
Letra añadida por: theused_801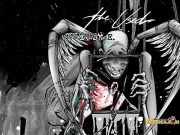 Compartir 'Men are all the same'