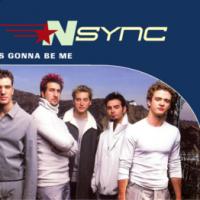 It's Gonna Be Me Letra
Añadir a Favoritas
Guardar en Playlist
IT'S GONNA BE ME es una canción de N'sync que se estrenó el , este tema está incluido dentro del disco No Strings Attached.
Letra 'It's Gonna Be Me'
You've might been hurt babe That ain't no lie You've seen them all come and go, oh Iremember you told me That it mad you believe in No man, no cry Maybe that's why Chorus Every little thing I do Never seems enough for you You don't wanna lose it again But I'm not like them Babby, when you finally Get to love somebody Guess what It's gonna be me You've got no choice babe But to move on, you know There ain't no time to waste, 'cause your just To blind to see But in the end you know it's gonna be me You can't deny So just tell me why Repeat Chorus There comes a day When I'll be the one You'll see It's gonna, gonna, gonna, gonna, gonna, It's gonna be me All that I do Is not enough for you Don't wanna lose it But I'm not like When finally you get to love Guess What, guess what Repeat Chorus
Sobre It's Gonna Be Me
No pasa un año sin que Internet recuerde este épico segundo single del disco de la famosa 'boy band', sobre todo cerca del mes de mayo. A pesar de que Justin Timberlake y sus colegas se colaron en el corazón de todas las adolescentes de la época, este tema del año 2000 fue el único que logró colarse en lo alto de la lista Billboard.