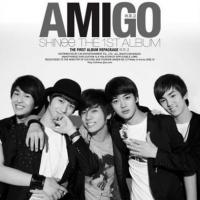 Amigo
en inglés
Añadir a Favoritas
Guardar en Playlist
AMIGO es una canción de Shinee que se estrenó el , este tema está incluido dentro del disco Amigo.
LETRA
Amigo (en inglés)
Cold heart, baby
Cold eyes, baby
Come on!
I met her, I fell in love
I loved her
The sexy girl I am seeing for the first time
(She is looking at me too)
Wow, it's cold, cold
The ice princess has arrived
But still sexy
Wait a minute, girl
(All) I, I run
The challenges are always fun
But the world is not
As easy as it seems
(*) A.mi.go
I lose my head when I see it
A.mi.go
I am unable to take it with this hand
A.mi.go
Volume value, I approach *
What do I do? What do I do?
A.mi.go
I get rid of my pride
A.mi.go
My heart is beating fast explodes
A.mi.go
The feeling of having her is great
A.mi.go
I could die, I would die
Wine? Do you see?
By chance, I'd like her once
It has never been a
And if I had been, and would be a slave
You're perfect, perfect
You must be the climax in my life
I want you, I'm ready
I am always ready to
Turns, slows
You gotta give me a chance
A poor but honest man, which seems incomplete abroad
Do not compare me with others, I am a precious kind of guy to take
Repeat (*)
Hey, do not know
Although I do not know, the desire
Even if she tries to escape, yet the desire for truth
When your mother says that all men are beasts and wolves
I say, do not believe
With such beauty, you deserve this adoration.
Always at my side, you deserve to receive my love
My frozen legs become weak, in your eyes expressive
Look at me, trust me
Show up, girl.
Look at me, trust me
Even if the world is not there
There is only one girl for me
I'll be the guy you love incredible
Repeat (*)
Repeat (*)
Cold heart, baby
Do not give me that look of ice princess
Try to smile once in a while
My knees are numb, I freeze
Cold eyes, baby
Show me your smile only once
The day you do, switch it to slave mode
My knees are numb, I freeze
Cold heart, baby
Yeah, okay
Cold eyes, baby
I like that girl
Cold eyes, baby.